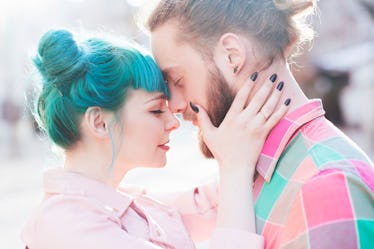 4 Dating Behaviors That Mean Someone Is Ready To Commit
Commitment can be a funny thing. When it comes to dating, some people avoid it like the plague, while others actively seek it out. If you're in the latter category, you may find yourself looking for subtle signs that your boo is down to take the next step. Of course, this could come in the form of a conversation about defining the relationship. But if they aren't outright telling you they want to make things official and exclusive, how can you know they're ready? As it turns out, there are certain dating behaviors that mean someone is ready to commit.
Looking out for these signs can be beneficial in a number of ways. For one, you might gain a better idea about where your date is at, which means you might be able to bring up the subject of commitment more comfortably and confidently. Additionally, if you gain some insight into whether bae is ready to commit, you can then take a step back and do a self-assessment. Figure out if you're on the same page, and moreover, what you want from this relationship, before having the DTR talk.
Wondering where your partner's head is at? Then keep a lookout for these signs that they're ready to lock it down.