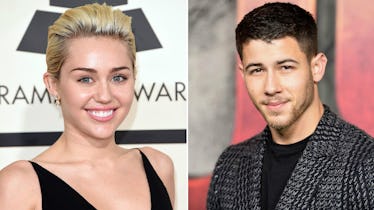 4 Celebs Who Wrote Love Songs About Their Ex Before Breaking Up That Will Make You Cringe
Jason Merritt/Jeff Spicer/Getty Images Entertainment/Getty Images
I always find it so, so sweet when a popular artist writes a love song about the person that they're dating. It's just super romantic and thoughtful, and, if I had any musical talent whatsoever, I feel like this is something I'd totally do. But sadly, I am tone deaf, so instead, I listen to love songs written by other people. But what the hell happens when a celebrity writes a sappy love song for the person that they're together with, only to break up with that person for one reason or another? At that point, the song is usually a worldwide hit, playing on a hundred radio stations, telling the world about how deeply they are (were?) in love. Eesh. Well, guess what? This happens a lot more than you'd think, and these four celebs who wrote love songs about their ex before they broke up might actually make you cringe.
Look, they might not be Sonny and Cher, but let's at least give these artists a standing ovation for trying. Writing a song for someone can't be easy, and it's not their fault that their love didn't last (well, in most cases). So without further adieu, may I present to you these love songs that the artists who wrote them probably regret.
1. "Marry Me" by Jason Derulo is about Jordin Sparks.
This one sort of hurts, if I'm being honest. A song that you've no doubt heard at weddings, "Marry Me" by Jason Derulo was like the updated slow-dance song that people of all ages could actually enjoy.
Derulo told Nightline ABC News that his girlfriend, Jordin Sparks, was the entire reason behind the song, saying, "That's the reason why I wrote the song in the first place, because I wanted her to know that when the time is right then it will happen." He continued, saying, "It will be the most amazing time. When I do get down on one knee, it's going to be one of the most amazing experiences of my life, but when the time is right."
But sadly, that time never really came, and after three years of dating, the couple called it quits, and Derulo said the "pressures of marriage" played a role in what brought their relationship to an end.
I mean, maybe don't write a song about wanting to marry your girlfriend if you aren't actually planning on marrying your girlfriend. That's always an option, guys.
2. "Love Will Remember" by Selena Gomez is about Justin Bieber.
Are you surprised that Selena and The Biebs are on this list? Because you really, really shouldn't be. While there are probably dozens of songs they've written about each other, Selena Gomez flat-out confirms that "Love Will Remember" was written for her on-again, off-again boyfriend, Justin Bieber. Rewinding things way back to May of 2013, Gomez told InStyle that this song's lyrics were aimed directly at Justin Bieber, despite their constant breakup-and-makeup mentality. "That's the most personal track on the record, for sure," Gomez told the publication, adding, "I'm sure he'll love it too."
And, while we can't be positive if she wrote the song while they were dating or taking a break, we're pretty positive that either way, Selena and Justin will *always* have a thing, and continue to write love songs while they're together, and breakup songs that pine for love when they're apart. That's just the way the cookie crumbles with these two.
3. "Nobody's Business" by Rihanna featuring Chris Brown is about their relationship.
I think we can all agree that Rihanna and Chris Brown's relationship was incredibly tumultuous, considering how, in 2009, Brown plead guilty to physically assaulting Rihanna, an action that rocked the entertainment industry and fans alike. As hard as it might be to believe, there was a point in time where it appeared the pair rekindled their relationship, and during that time, they released a controversial song together entitled "Nobody's Business" that was featured on Rihanna's Unapologetic album.
Back in 2012, when the song was released, Rihanna went on a Facebook Live chat with Bravo's Andy Cohen to discuss the song. She said,
"Nobody's Business" is basically the way I look at everything regarding my personal life. Even though you have to witness it and document it at every second, it still is mine.
While she didn't directly say that it was about her relationship, the lyrics themselves couldn't be any less subtle. Some of the lyrics go:
You'll always be mine, sing it to the world, Always be my boy, I'll always be your girl, Nobody's business, ain't nobody's business, Ain't nobody's business, but mine, and my baby
I mean, let's be real here. Sure, the song is probably somewhat about life in the public eye, but I can't say I'm sold that her relationship with Chris Brown (whom she still appears to share a friendship with) didn't play into a small portion of the lyrics. Plus, he's featured on the damn song.
#Facts.
4. "7 Things" by Miley Cyrus is about Nick Jonas.
2008 was an interesting time, and clearly, not just for me. That's because it was a time when Miley Cyrus recorded the song "7 Things" and it is really, um, something to watch. It was revealed to MTV News by the video's director, Brett Ratner, that the song was actually meant for Nick Jonas, who Cyrus dated for two years.
Yes, you read that correctly.
"The necklace she's wearing in the video is the necklace he gave her," Ratner recalled. "She's wearing his diabetes or medical necklace."
YUP. Miley Cyrus wrote "7 Things" for Nick Jonas, which, as we all know didn't work out. But at least we have this beautiful song as a memory of their relationship, right?
Some of the lyrics go:
The 7 things I like about you, Your hair, your eyes, your old Levi's, And when we kiss, I'm hypnotized, You make me laugh, you make me cry, But I guess that's both I'll have to buy, Your hand in mine, When we're intertwined everything's alright, I want to be with the one I know, And the 7th thing I like the most that you do, You make me love you
Hey, I guess it beats "Wrecking Ball," so I'll take it.
So what can you take away from this? Well, for starters, steering clear from writing love songs specifically for the person you're dating is probably a good start. And, if you find yourself unable to do that, please, PLEASE, avoid getting your song on the radio at all costs, because it will most likely curse your relationship forever and ever. The end.