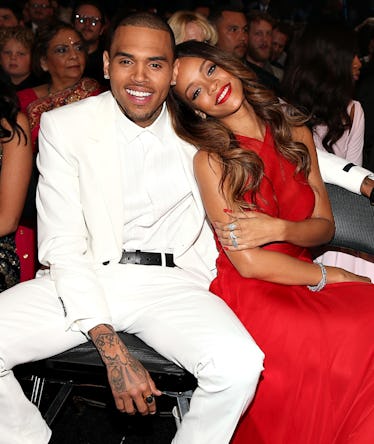 Chris Brown Posted About Rihanna's Birthday On Instagram & People Are Pissed
Christopher Polk/Getty Images Entertainment/Getty Images
It's RiRi's 30th birthday, and that's definitely a cause for celebration. Rihanna herself went all out, wearing an "I Hate Rihanna" T-shirt, which, in my opinion, is absolute perfection. Robyn Fenty (her real name) is a diva, and we should all bow down to the queen on her special day. And, while most people love getting birthday wishes, sometimes they come from a blast from the past, causing you to be confused about the whole thing. That might be something our girl is going through at the very moment, because Chris Brown's Instagram about Rihanna's birthday is certainly causing a lot of drama for her fans.
For those who are having trouble remembering, the couple dated for about four years, but in 2009, Chris Brown was charged with assaulting Rihanna in his Lamborghini and was given a restraining order. Brown ultimately pled guilty to one count of assault and was ordered to "five years probation, 180 days in jail or the equivalent – about 1,400 hours – in "labor-oriented service," and a "year-long domestic-violence counseling class," according to CNN. Ultimately though, Rihanna decided to take him back, lifting the restraining order against him. In an interview with Vanity Fair, Rihanna explained why she chose to get back together with Chris Brown after the incident:
I was that girl, that girl who felt that as much pain as this relationship is, maybe some people are built stronger than others... Maybe I'm the person who's almost the guardian angel to this person, to be there when they're not strong enough, when they're not understanding the world, when they just need someone to encourage them in a positive way and say the right thing.
But fast-forward to present day, and we know full well that the two are no longer together. So it came as a bit of a surprise to fans that Chris Brown would dedicate an Instagram post to Rihanna for her birthday. The photo he posted was a picture of Rihanna as a young girl, with a caption that read, "HAPPY BIRTHDAY @badgalriri":
While it's a seemingly sweet gesture, many fans were fuming after seeing his post:
This isn't the first time Chris Brown made some waves when giving Rihanna a shout-out on social media. Back in August 2017, RiRi posted a photo of one her looks at Crop Over, a festival in her hometown of Barbados, and she looked like a damn dream.
However, fans noticed that Chris Brown commented on the photo with the looking-eyes emoji, and guess what? They were NOT pleased:
Ugh. No thanks, Chris Brown. I think RiRi's good.
In August of 2017, a Facebook fan account posted an excerpt of Brown's documentary, Chris Brown: Welcome to My Life, and detailed Brown's side of the story. According to Us Weekly, Brown claimed the abuse throughout his relationship with Rihanna was mutual after confessing to sleeping with a woman prior to their relationship:
From there, it just went downhill because there were too many verbal fights, physical fights as well. Mutual sides. It is the first time I get to say anything. We would fight each other. She would hit me, I would hit her and it never was OK.
Let's just repeat that one more time for the people in the back: It's NEVER OK to treat those you love with any form of abuse, be it physical or verbal. Just don't do it.
Brown also added that he and Rihanna tried to stop fighting:
There was always a point where we'd talk about it like, 'What the f—k are we doing?' ... Like, 'I don't like you slapping me.' If I go on stage I got a scratch on my face and I gotta explain it like, 'Oh, no I fell.' If you got a scar or a bruise you gotta put makeup on. I'm not ever trying to put my hands on any female.
Whether or not Rihanna and Chris Brown have since totally forgiven each other, I think the smartest thing for Brown to do at this point is to just step to the side and let our girl RiRi shine.