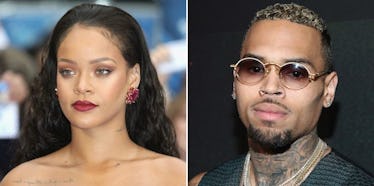 People Are Pissed At Chris Brown For Leaving This Comment On Rihanna's Instagram
Tim P. Whitby/Jonathan Leibson/Getty Images
Chris Brown commented on one of Rihanna's Crop Over Instagrams, and I honestly didn't know I could be so angry this early in the morning. Chris Brown's comment on Rihanna's Instagram was the eyes emoji, and it was posted in reaction to Rihanna's Crop Over look. She looks amazing, obviously, because she always serves looks for Crop Over (it's kind of my favorite Rihanna day of the year), but fans are straight-up livid that Brown had the nerve to comment on the post (for obvious reasons).
Elite Daily reached out to Brown and Rihanna's teams for comment on the Instagram, but did not hear back by time of publication.
Crop Over is a traditional harvest festival held in Barbados (where Rihanna is from) every year. Rihanna goes to Crop Over just about every year, and every year, she's the best dressed there, because obviously. She's Rihanna. She is the queen of red carpets and Met Gala looks, but she's also the queen of looks in general. Everyone bow down.
Lots of fans have been commenting on her Crop Over posts saying she looks amazing, and many fans are commenting about how much they love "thick" Rihanna. (But it's necessary to note that commenting on Rihanna's body, even if it's praise, is just another way of policing women's bodies.)
This was Rihanna's look that we don't deserve to feast our eyes on:
And here's Brown's comment:
On Twitter, fans of Bad Gal RiRi are pissed over Brown's comment. They feel it's obvious that he shouldn't be effectively hitting on her in any capacity, given their history. Rihanna didn't respond to Brown's comment because she's Rihanna and she doesn't need to, but other celebrities like Taraji P. Henson, Chance the Rapper, Lorde, and Lili Reinhart have all commented on the post. No one is safe from Rihanna's slayage.
Literally, goodbye, Chris. Get outta here.
Let's just look at pictures of Rihanna at Crop Over and nothing else.
I feel so much better! Thank you for being you, Rihanna. And Chris Brown, please get out of here.