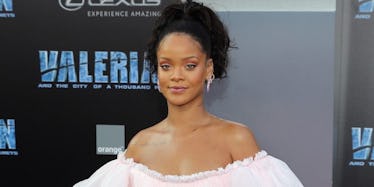 Rihanna Slayed Yet Another Red Carpet At The 'Valerian' Premiere — PHOTOS
Neilson Barnard/Getty Images
Rihanna hath slain me once again with her red carpet look at the Valerian premiere. This movie is most likely going to suck, but her presence in it has secured my purchase of a ticket.
The premiere was last night, July 17, 2017, in L.A., and the queen of red carpets/the Met Gala/fashion/everything arrived in a blush-colored gown and Twitter collectively (and happily) combusted.
People were tweeting while waiting for her arrival, as one must do when Rihanna is on her way. They didn't care about anyone else, just Bad Gal RiRi.
Are you ready for this look? I don't think you are, but here it is in all its blush glory:
ARE YOU KIDDING ME WITH THIS, RIHANNA?
I WANT TO GET MARRIED IN THIS GOWN, AND I DON'T EVEN WANT TO GET MARRIED.
Thank you for providing us with the only good thing to come out of Valerian.
(It has a 69 percent rating on Rotten Tomatoes, but critics aren't loving it, saying the leads, Dean DaHaan and Cara Delevingne, were horribly miscast.)
But we have RiRi!!! Just look at RiRi!!! Focus on RiRi!!!
Between this and the 2017 Met Gala, Rihanna has been singlehandedly saving red carpets everywhere all year. She commits to the role, people.
In Valerian and the City of a Thousand Planets, Rihanna plays a character named Bubble. No relation to The Powerpuff Girls, unfortunately.
Bubble is — WAIT FOR IT — a performer.
WHAAATTTTTTT?!??!? Rihanna playing an entertainer?! Ya don't say!
Sorry, that was shady.
Bubble apparently is a shape-shifter with the ability to completely change her appearance when she takes off her hat. A little weird, but whatever.
The film is based on the beloved French comic book Valerian et Laureline that debuted in 1967 and had its last issue in 2010. It's basically about Dean DaHaan (Valerian) and Cara Delevingne (Laureline) in the 28th century being in charge of saving the world.
It just won't be with their acting skills.