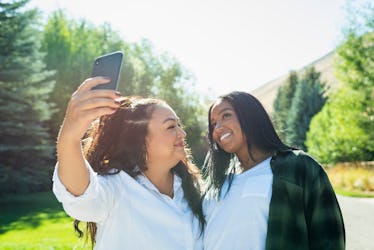 33 Throwback Mother's Day Instagram Captions For All Your Fave Mom-ents
Showering your mom with love was something you were quite literally born to do. On Mother's Day, you may have a tradition of brunch in bed with some surprise gifts, followed by a post to the 'Gram. If you can't spend the day with your mom to snap a new pic, you can always post some old pictures with throwback Mother's Day Instagram captions.
A dedicated social media post is a must, and you can't wait to show off how great your mom is to everyone who follows you. Even if you are spending the day with your mom, you may choose to use some throwback Mother's Day pics because they're so cute. Scrolling through your camera roll or digging through old photo albums, you may find some hidden gems that need to be shared. Who doesn't love a childhood throwback of you and your mom sporting some fashionable '90s or early 2000s outfits? You may also come across some hilarious family vacay photos that remind you of inside jokes.
Those precious memories need to be on your feed, so be prepared to post yours with any of these 33 throwback Mother's Day captions. You could even post a photo-dump of snaps throughout the years, so your friends can see how much you've grown together.
"We took this picture so it would last longer."
"My mom and best friend since Day 1."
"As you can see, I really do take after my mom."
"Hey Mom, you ready for a do-over."
"You've never been a regular mom, you've always been a cool mom."
"Oh look, it's my mom and her favorite child."
"Isn't it funny how day by day nothing changes, but when you look back everything is different?" — C.S. Lewis
"Wow, I had better fashion sense when my mom was dressing me."
"Happy Mother's Day. Sorry for those teenage years."
"My mom loved me through all my awkward phases. That's true love."
"I'll take a one-way ticket back to this moment with you."
"Every moment with you is my favorite memory."
"Now you know where I get it from."
"Just looking at this photo makes me homesick."
"And you're the prettiest lady in the whole wide world." — Taylor Swift, "The Best Day"
"Little moments with you turn into big memories."
"No matter how old I may get, I'll always need my mom."
"Do you think we still have these outfits somewhere?"
"A mother is your first friend, your best friend, your forever friend."
"Felt cute. And we're still cute."
"I wish there was a way to know you're in the good old days before you've actually left them." — The Office
"I guess time really does fly when you're having fun."
"I've always been the best at giving Mother's Day gifts."
"Oh, darlin', don't you ever grow up." — Taylor Swift, "Never Grow Up"
"Out of all the moms in the world, I am so glad you are mine."
"We don't need a glow-up because we've always been glowing."
"It doesn't matter how old you are, or what you do in life — you never stop needing your mom." — Kate Winslet
"Thanks for rewatching all those Disney movies over and over again without complaining."
"My mom's always been a fashionable queen."
"Turns out, my mom was right about everything."
"If only you knew how much these little moments with you mattered to me."
"You've always been mum-believable."
"I'll always cherish these mom-ents."