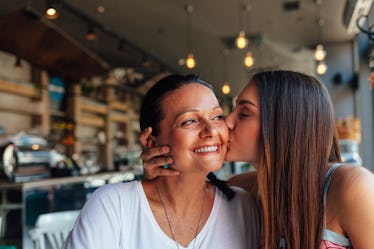 These 28 Best Mother's Day Captions Will Show Your Mom Some Major Love On Insta
kikovic/Shutterstock
There's a lot to celebrate in life, but our moms are probably one of the best reasons to put our party pants on. They're the incredible women who raised us, and the ones we can always count on to break out those embarrassing baby pictures. The best Mother's Day Instagram captions will show your mom or the mom figure in your life some much-needed love this May, and appreciation for the times when she's told you to clean your room, keep your head up, or vent about your crummy day.
Truth is, you've realized your mom's been right about a lot of things throughout your life, especially in those moments when she's giving you advice or encouraging you to do something you may not want to do. You may have assumed in high school she couldn't understand what you were going through, or how that jean jacket was just so trendy. But, the fact of the matter is she didn't want you to follow the crowd, and you're thanking her now for being your best supporter.
Over the years, you've shown your appreciation for her in other ways. Maybe you've bought her a gift just because, or made sure to call her during the week. You may have even picked out a throwback picture from when you were a kid to randomly post on social media with a heartfelt message, or taken a selfie during one of your coveted "girls' weekends." She deserves the world and all of that love, and Mother's Day will be the best opportunity to make a post on social media again.
It's simple: Put that appreciation right onto your profile, and pick out one of these 28 Mother's Day Instagram captions before hitting the "share" button. Seriously, it doesn't get much sweeter than this.
"I got it from my mama."
"A mother is like a flower — each one beautiful and unique."
"First my mother, forever my friend."
"Out of all of the moms in the world, I'm so glad you are mine."
"You're the mom everyone wishes they had."
"Everything I am, you helped me to be."
"To the world you are a mother, but to your family you are the world."
"She's the kind of person I want to be."
"Mom, well done! I'm awesome."
"You did a grape job raisin me!"
"My brunch partner, always."
"Home is wherever Mom is."
"May your day be as sweet as you."
"Who needs a superhero when I have her?"
"You were right. There, I said it."
"Life doesn't come with a manual, it comes with a mother."
"I love that we don't need to say out loud that I'm your favorite child."
"Dear Mom, I get it now."
"I doughnut know what I'd do without you."
"If I know what love is, it is because of you." — Hermann Hesse
"Here's to strong women. May we know them. May we be them. May we raise them."
"Nevertheless, she persisted." — Senator Mitch McConnell
"Moms make life beautiful."
"Mom: A title just above queen."
"She taught me that fear is not an option." — Diane von Furstenberg
"To describe my mother would be to write about a hurricane in its perfect power." — Maya Angelou
"Thanks for teaching me to stop and smell the rosés."
"Love you more."
This article was originally published on