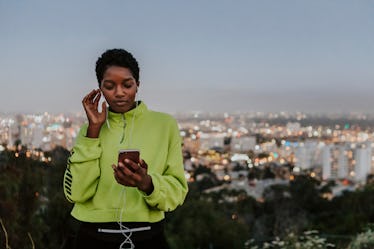 31 Songs About Almost-Relationships That Will Give You All The Feels
Shutterstock
Last summer, after two months of what I thought was mutually enjoyable dating, I invited a boo to a cookout and got hit with a text that literally read, "I don't even know how I feel about you yet." As I tried to make sense of what the heck went wrong, I compiled an emotional playlist to ease the pieces of my broken and confused heart. So, if you're looking for some serious songs about almost-relationships, you, my friend, have come to the right place.
Like actual relationships, almost-relationships come in all shapes and sizes. Sometimes, external factors in the universe keep people apart. Even if you both know that you're never going to commit to each other seriously, you may not be ready to stop doing whatever it is you are doing. You may think you've been dating for months, but then you're suddenly hit with a, "we're not dating" text. Although open communication is key to all kinds of relationships, life can be messy. Sometimes, you have no idea what is going on until you're sitting in the bathtub crying to a playlist titled, "What was that?"
From my bathtub to yours, here are 31 of my favorite lyrics about almost-love.