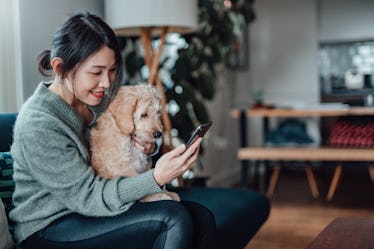 30 St. Patrick's Day Captions For Your Dog & Sham-Racking Up The Likes
Whether you're having a St. Patrick's Day photo shoot, or celebrating the upcoming holiday with green beer and beef stew at home, one thing is for sure: Your dog will be in on the shenanigans, too. There's not an exciting life moment you have without your pup by your side, which is why you'll be handing the spotlight over to your fur-ever friend this year. Gather up St. Patrick's Day captions for your dog before the fun begins, and think about what type of photos you want to pair them with.
You've posted enough photos in the past of your besties hanging out by the parade route, or standing in pubs around the city. You may be thinking that a cute selfie of your dog in shamrock-shaped sunglasses would be fitting. After all, you're following the Centers for Disease Control and Prevention's (CDC) holiday celebration guidelines, and staying home this year due to the ongoing pandemic. So, finding props and themed attire around your home will be #necessary. Honestly, whatever you come up with will help your cheery pug or loyal golden retriever receive some likes, comments, and saves. Your content ideas will also naturally go with these St. Patrick's Day captions for your dog.
Now, your pup might not totally understand the concept of social media, but they will happily respond to your pats after you tap the "share" button. They'll get excited when you look at them and say, "You're famous," or "Who's the goodest boy on the 'gram?" So, pick out some of these St. Patrick's Day captions for your dog that'll sham-rack up the likes.
1. "Does this outfit make me look like I'm celebrating St. Patrick's Day?"
2. "The goodest boy sporting his St. Patrick's Day outfit."
3. "Clovers and dogs make the world go 'round."
4. "Wake up, play with dog, celebrate St. Patrick's Day."
5. "You're the cutest clover in the patch."
6. "Puppy kisses and four-leaf clover wishes."
7. "Zero lucks or licks given on this St. Patrick's Day."
8. "Spending St. Patrick's Day with you is going to be a real treat."
9. "The most festive pupper you ever did see."
10. "Being this cute must be so freaking ruff."
11. "The St. Patrick's Day snugglin' is so real."
12. "Can't get clover how cute you look."
13. "Even my pup is getting into the spirit of things."
14. "Not your average lucky charm."
15. "All leprechauns and festive pups are welcome here."
16. "Looking for the St. Patrick's Day snacks."
17. "Here for the snacks and shenanigans."
18. "Say cheese! We're taking a St. Patrick's Day selfie."
19. "Shamrockin' and rollin' to the backyard."
20. "Life is short. Take a St. Patrick's Day pic with your dog."
21. "Can you sniff out the pot-'o-gold for me, please?"
22. "Just hanging out with my dog. How about you?"
23. "Who needs luck when you have a pup like this?"
24. "Feeling lucky to have you by my side."
25. "I've never met a paddy or puppy I didn't like."
26. "This pup is making their inner leprechaun proud."
27. "Wearing green today to match my pup."
28. "Little pup, lots of green."
29. "That wasn't very St. Patrick's Day of you."
30."Will sit for St. Patrick's Day pics and snacks."
This article was originally published on