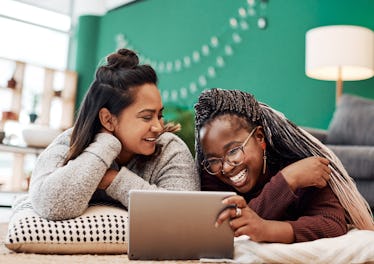 Paddy It Up With Your Roommates With These 8 At-Home St. Patrick's Day Games
PeopleImages/E+/Getty Images
You're in luck, because you can have the best St. Patrick's Day ever right at home. All you need are your roomies, an Insta-worthy green outfit, and a few at-home St. Patrick's Day games to play. Along with a full itinerary of fun, mix up some green cocktails (if you're 21 and up) to serve alongside some festive bangers and mash, and you've got yourself the most epic paddy ever.
Of course, you'd love to keep up tradition and go out to your fave pub for a Guinness or two, but this year, you're keeping it cozy with your crew. The Centers for Disease Control and Prevention (CDC) still recommends that you celebrate the holidays with people you're living with to avoid the spread of COVID-19. That's easy for you, because you were planning on spending St. Patrick's Day with your roomies anyway. Now's your chance to get creative with your party plans by playing a few unique St. Patrick's Day games.
For instance, instead of just dancing it out like you normally do in the living room, make it a TikTok dance battle to show off how much choreo you know. You could also whip up some copycat Shamrock Shakes to enjoy throughout the night, or any of these other St. Patrick's Day ideas. With your besties by your side, you're down for whatever shenanigans come your way.
We only include products that have been independently selected by Elite Daily's editorial team. However, we may receive a portion of sales if you purchase a product through a link in this article.