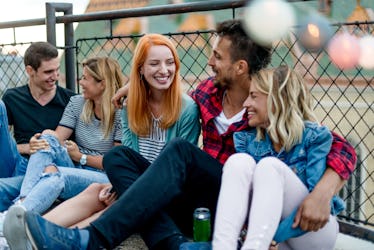 17 St. Patrick's Day Quotes For Many Blessings On This Holiday
Shutterstock
No need to panic if you're seeing green everywhere you look — that just means St. Patrick's Day is near. This year, you celebrate by cheering with your friends at the parade, wearing bright green hues to avoid getting pinched, and enjoying green beer at your favorite pub (if you're 21 or up). What better way to emphasize your festivities than with some St. Patrick's day quotes, Irish sayings, and blessings?
These St. Patrick's Day quotes can be used to send out your happy St. Patrick's Day texts to friends and family, or written out in a handmade card to someone special. You might also want to use them for Instagram caption. Instead of coming up with the words on your own, these 17 quotes are here for you. That way, you can just copy, paste, and get right back to the festivities.
Use these quotes for your Insta pics of you and your friends wearing green at the parade, or making a delicious loaf of Irish soda bread together. No matter what you decide to use them for, they will also be nice reminders that you're lucky as a leprechaun on this holiday surrounded by the best loved ones and squad of all time. So be sure to raise your glasses high and cheers to everyone this happy St. Patrick's Day.
1. "May you have love that never ends, Lots of money and lots of friends. Health be yours, whatever you do. And may God send many blessings to you." — Irish blessing
2. "When I count my blessings, I count you twice." — Irish proverb
3. "May your troubles be less. Your blessings be more. And nothing but happiness. Come through your door." ― Dorien Kelly
4. "May your pockets be heavy and your heart be light. May good luck pursue you each morning and night." — Irish blessing
5. "Don't throw away luck on little stuff. Save it up." — Tim O'Brien
6. "May you always walk in sunshine. May you never want for more. May Irish angels rest their wings, right beside your door." — Irish blessing
7. "The best luck of all is the luck you make for yourself." — Douglas MacArthur
8. "May your heart be light and happy. May your smile be big and wide. And may your pockets always have a coin or two inside." — Irish blessing
9. "Wishing you a pot o' gold and all the joy your heart can hold." — Irish welcome
10. "May the dreams you hold dearest be those which come true, and the kindness you spread keep returning to you." — Irish blessing
11. "For each petal on the shamrock this brings a wish your way. Good health, good luck, and happiness for today and every day." — Irish blessing
12. "Just thinking of all the people I'm lucky to have with me today."
13. "Luck is believing you're lucky." — Tennessee Williams
14. "Wherever you go and whatever you do, may the luck of the Irish be there with you." — Irish blessing
15. "You gotta try your luck at least once a day, because you could be going around lucky all day and not even know it." — Jimmy Dean
16. "May good luck be with you wherever you go, and your blessings outnumber the shamrocks that grow." — Irish blessing
17."Wishing you a pot of gold at the end of all your rainbows."
This article was originally published on