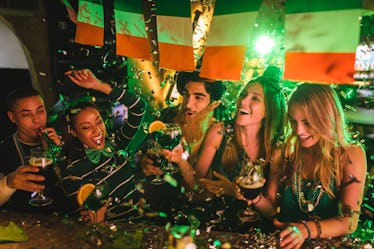 39 St. Patrick's Day Captions That'll Make Your Friends Green With Envy
wundervisuals/E+/Getty Images
St. Patrick's Day is a big deal in most cities across the United States. There may be clinking of beer mugs for the 21 and up crowd, a festive parade to attend in the morning, and a lot of sweet and savory green treats to go around for everyone. Seas of green can be found pretty much wherever you look (otherwise, there's some pinching involved). And to document it all, you'll need the perfect St. Patrick's Day captions for your Instagram feed.
You can grab a quote from The Luck of The Irish — one of the best Disney Channel movies of all time (and worth a viewing every year for March 17) — or you can go with something witty. Whatever you decide on, you'll be in the best kind of mood spending the day celebrating with friends and family.
Again, make sure that if you're 21 or over and plan on sipping some beer this holiday, do so responsibly. You want to have cute pics to post to go along with these captions. So get ready to get dressed up in your festive best from head to toe, because this St. Patrick's Day is going to shamrock your world.
1. "Why can't you borrow money from a leprechaun? Because they're always a little short."
2. "Why should you never iron a four-leaf clover? Because you don't want to press your luck." — Daryl Stout
3. "Someone's good luck charm."
4. "Feeling a little green."
5. "Ready to shamrock this party."
6. "Queen of Shenanigans."
7. "What's Irish and stays out all night? Paddy O'furniture!"
8. "What do ghosts drink on St Patrick's Day? BOOs."
9. "I pinch back."
10. "Irish you were beer."
11. "Irish you a lucky day."
12. "All green everything."
13. "Shamrockin' this green outfit."
14. "How is a best friend like a four-leaf clover? Because they are hard to find and lucky to have."
15. "What do they call the Irish jig at McDonalds? A Shamrock Shake."
16. "Shamrocks and shenanigans for all!"
17. "Pinch patrol."
18. "We like to paddy."
19. "What's a leprechaun's favorite kind of music? Shamrock and roll."
20. "Lucky to be with you."
21. "Lucky AF."
22. "Well, I'm a leprechaun so don't be telling me about rainbows!" — Reilly O'Reilly, The Luck of The Irish
23. "I'll cheers to that."
24. "It is better to spend money like there's no tomorrow than to spend tonight like there's no money!" — Irish toast
25. "Remember puns on St. Patrick's Day don't just shame you, they Seamus all."
26. "Drink like you're a Gallagher." — An ode to the Gallaghers of Shameless
27. "The leprechaun made me do it."
28. "Irish you were here."
29. "Feelin' sassy."
30. "Magically delicious." — Lucky Charms
31. "What a brew-tiful view."
32. "Let's get shamrocked."
33. "Paddy vibes."
34. "Erin go Bragh | Ireland Forever." — Irish saying
35. "Don't worry, beer happy."
36. "That's what I do. I drink and I know things." — Tyrion Lannister
37. "If you're not wearing green today, leaf me alone."
38. "The paddy don't start 'till I walk in."
39. "You're the beer to my St. Patrick's Day."
This article was originally published on