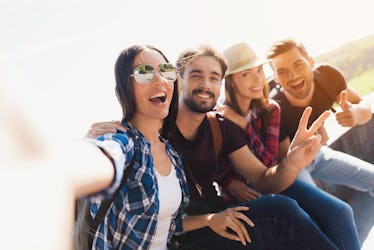 How To Celebrate St. Patrick's Day With Your Friends, Based On Your Zodiac Sign
Shutterstock
Are you feeling lucky? Spring is about to be sprung, and St. Patrick's Day is coming around the corner. Each holiday gives you another reason to do something cool with your crew and celebrate in style. Maybe you've thought about heading into a nearby city for a parade on the green-filled day of March 17, or maybe you don't have anything on the books quite yet. That's OK. You don't need to be a pro at planning, or sure of how to celebrate St. Patrick's Day with your friends. The stars have it all figured out, based on your zodiac sign.
Here's the deal: It'll be like your Always Sunny in Philadelphia dreams are coming true, because every bar will feel like Paddy's Pub. Everywhere you look there will be people decked out in every shade of emerald they could find. You'll want to clink your beer with your besties (assuming you're of age, of course), and if somebody pinches you, well, that just means you just didn't look like you were truly feeling festive.
There are so many rad traditions you can take part in like that. It's not all about looking for lucky charms or finding a pot of gold at the end of the rainbow. Whether you choose to participate in those traditions or check out a lively parade, though, the stars have no doubt this St. Patrick's Day will be stellar. Here's how you should be spending it with your BFFs.
This article was originally published on