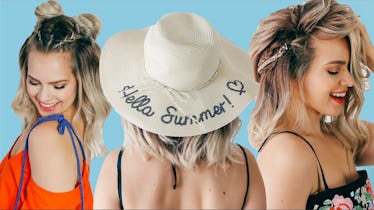 30 Spring Break Hairstyles That Are So Easy, You Can Do Them Half-Asleep & Hungover
When you're trying to live your best life on vacay, the last thing you'll want is for the warm tropical breezes to constantly blow your hair directly into your face. However, you won't want to spend 15 years attempting new, complex styles either. These 30 Spring Break hairstyles will get your hair out of your d*mn face, so you can make awkward continued eye contact with that cutie at the bar without it blowing into your face. Trust me, there are much more important things to worry about on Spring Break. You won't have the time (or energy) to futz around with your hair.
Now, I love having my hair down, but there's nothing worse than trying to have a romantic moment or a memorable experience while your hair keeps getting caught in your lip gloss. Ponytails and casual updo's were made for vacations, so you might as well lean into them. You won't want to feel sweaty, sticky strands at the nape of your neck as you sun bathe (while wearing SPF, of course) on the shores of the Cancun, Punta Cana, the Jersey shore, or wherever else your travels make take you. So pack a hairbrush and a travel-size dry shampoo, and let's get started.
YouTuber Carrington Durham will teach you five different no-heat hairstyles, so feel free to leave your straightener and your curler at home. These are by far the easiest on the list. That messy bun took approximately five seconds to do. I personally dig the space buns, which would look super cute paired with a metallic swimsuit.
Beauty Guru Kayley Melissa incorporates accessories (yay) and proves that short-haired folks can rock fun do's, too (double yay). The down-do's I recommend for chilly island nights, and the cute ponytail/scarf situation is perfect for hungover mornings when you just "can't even," ya know?
If you're planning on getting your hair wet (which makes sense for most normal humans on vacation that aren't literal house cats like myself), then Shannon Estelle's video has got your back. Once again, buns and hairbands reign supreme for quick and easy ways to get your hair TF away from your face. Plus, these styles will ensure that your hair still looks good as it dries.
If your hair is wet and curly, then CurlsBeauty will show you how to rock your hair straight out of the pool. The bow gives me major throwback Gaga vibes in the best way.
YouTuber Ashley Bloomfield has sunbathing curly haired queens covered this summer. The pineapple pony is just too cute for words. The braided bun is also super adorable and much easier than it looks.
A high ponytail might seem difficult, but LustreLux really breaks it down. A high pony is the perfect diva style for dancing the night away. Take it from someone with really thin hair: having a couple pieces of clip in extension really helps. I can achieve the perfect ponytail in minutes thanks to the added faux hair.
If you have natural hair, Chazzzisawesome will teach you the most trendy looks from social media so you can vacay in style. Her tutorials (and her Teddy Bear intro) are also adorable.
If you really are a messy bun stan, then this is the ultimate YouTube tutorial for you! Now you can wear your favorite styles in four different ways so you don't bore yourself to death. Jackie Wyers shows that messy buns don't just have to be haphazardly thrown onto the top of your head. You can be quick and classy AF.
Whether you're sitting by the bar sipping a daiquiri, or skinny dipping in the ocean under the moonlight, there is a hairstyle that will help you live your best life this Spring Break. Spend more time making memories that you'll cringe at one day, and less time futzing around with your hair.