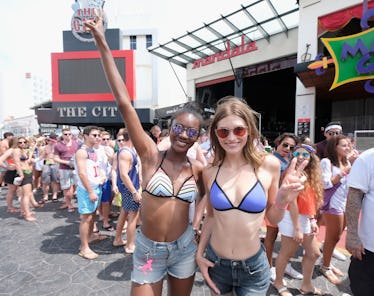 6 Places To Go On Spring Break If You're Broke
Dimitrios Kambouris/Getty Images Entertainment/Getty Images
Embarking on some sort of spring break getaway is essential, whether you're still in school, or if you're out working in the "real world." And whether you're trying to go on a "spraaang break," or if you just need a second to chill, everyone needs a little time to to shake off that winter stress. Since budget can sometimes make traveling tricky, here are six places to go on spring break if you're broke, because money doesn't always have to be an issue.
Speaking from personal experience, having the travel bug while you're broke can be incredibly devastating. While all you want to do is get out of the house and see the world, all you feel like you can afford is to take a trip down the street. But there are so many popular cities and towns around the world that are simultaneously inexpensive, and also super fun. And although cheap and fun don't seem to always go together in the same sentence, there are so many places (warm places, FYI!) where you can do anything from lounging on the beach, to listening to live music — and they're definitely worth looking into for your spring getaway this year.
1. Punta Cana, The Dominican Republic
Punta Cana is known for its sandy beaches and bright blue water. They have a ton of all-inclusive resorts like Club Med and Iberostar, which save travelers a ton of money on food, alcohol, and activities. If the beach gets tiresome and you decide to leave the resort, bartering is totally acceptable. So you can end up trading and bargaining the souvenirs you didn't initially have the budget for.
2. Myrtle Beach, South Carolina, USA
Myrtle Beach is a honky-tonk beach town, known for its cheap eats, drinks, and hotels. Ocean Annie's Beach Club Bar at Sands Ocean Club is an oceanfront bar, complete with a pool deck, a DJ, and inexpensive beverages. If you're feeling active, make sure to rent bikes and explore the town, or walk along the boardwalk and grab some fudge.
3. New Orleans, Louisiana, USA
If exploring folk culture, jazz clubs, and French cuisine is more your vibe, definitely checkout New Orleans, Louisiana. Between bowls of jambalaya, live jazz, and way too many beignets, there's something interesting happening pretty much everywhere you go. Natchez River Cruises are supposed to be really cool, as you get to explore the city by boat. Plus, it includes dinner... and one ticket is only $70.
4. Any Of The U.S. Virgin Islands, USA
Look into the U.S. Virgin Islands if you're hoping to soak up some tropical vibes within the United States. Rent snorkeling gear to explore the ocean life, or go to a rum tasting. And if you're into discounted shopping, everything is duty-free, which means they don't tax.
5. The Catskill Mountains, New York, USA
The Catskill Mountains are ideal for the outdoorsy traveler who's looking to hike during the day, and visit dive bars at night. There are several cheap hotels and campgrounds in the Catskills, and some really beautiful Airbnbs. If you have any interest in classic rock, pay a visit to The Woodstock Museum; it's only $7 for adults.
6. Nashville, Tennessee, USA
Maybe BBQ and rock 'n' roll are more your speed, in which case, Nashville is an another inexpensive and vibrant city. Spend some time at The Honky Tonk Highway to see free live music — all day, everyday — and get your hands dirty and your belly happy at literally any one of their world-class BBQ joints.
Check out the entire Gen Why series and other videos on Facebook and the Bustle app across Apple TV, Roku, and Amazon Fire TV.