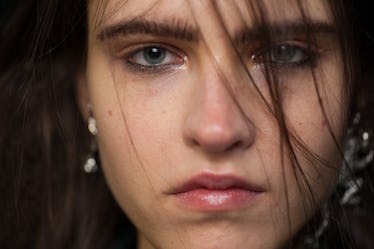 34 Hairstyles For Dirty Hair, Because Who Wants To Wash Their Hair In Winter Anyways
Nicky J Sims/Getty Images Entertainment/Getty Images
Washing your hair can be a chore. Washing your hair in the winter can be literal murder. Dry out my desert-like scalp even more with clarifying shampoo? I don't think so. If you're trying to cut down on your winter hair washes, here are 34 hairstyles for dirty hair that will make your greasy roots look intentionally runway ready.
I think we'd all rather spend an extra 15 minutes rolled up blankets in bed like the tasty burritos we are, rather than jumping in a shower that may scald us to death during and turn us into icicles after. I'm not recommending that you go full-on stinky in the winter time. Showers are important for washing off the grossness of the day and the sweat that accumulates under numerous layers of heat-insulating clothing. However, wet scalp during the wintertime is a particular type of evil. And if you immediately blow dry your hair after showering, you risk making your dehydrated winter hair even more crispy and straw-like.
If you let your hair air dry, you'll be forced to experience an ice cold scalp that will send shivers down your already freezing spine. So why not just avoid this no-win conundrum altogether by skipping the shampoo and opting for these shortcut hairstyles instead?
YouTuber Jackie, aka JaaackJack, shows us five different styles that will hide the fact that you haven't even looked at shampoo in days. As someone who struggles with French braids, I especially appreciate the super easy side twist in the first look. Also, the high buns in the second look are always a cute way to disguise dry and uncooperative hair. If your roots are particularly greasy, I personally recommend throwing some glitter on them. Glitter fixes everything.
YouTuber BusyDoingMe also gives us the gift of five different styles to rock on those dirty hair days. From sleek top knots to side braids, this beauty guru shows us that hair doesn't have to be clean to be stylish AF.
LoveMelisaMichelle has the self-proclaimed "greasiest hair in the world," so if your scalp gets oily AF, then these seven hairstyles are for you. I too opt for the Ariana Grande hair when my hair has been unwashed for days on end. A sensible high pony does wonders to disguise limp, oily hair.
In under four minutes, Sazan Hendrix manages to create four different styles that actually look like they belong on a runway but aren't that difficult to recreate. Bless her hair ingenuity. Seriously, how does she look ready for the Met Gala in all four looks with dirty hair? It's magic.
If you're more of that sleek type of girl, or you just don't have mad braiding skills, then Lyss Ryann's four easy tutorials will suit you just fine. Plus, she just goes straight into the how-tos for those of you that don't like long intros (myself included).
I always rely on my extensions when my hair is extra dirty. It's the perfect way to disguise greasy hair and make it seem like there's much more volume. If you have a set of easy-breezy clip-in extensions, then these three looks by Ashley Bloomfield will be easy as pie to recreate.
Say bye-bye to bad hair days with these three easy styles from DiamondCandyTV. She really shows us how quickly you can turn it out.
Kirsten Zellers reminds us that a sensible head scarf or a hat can be your best accessory in creating a dirty hairstyle. Greasy roots? Just cover them up.
No time to wash your hair in the morning? No problem. Just grab a can of dry shampoo, watch a tutorial, and fool the world into thinking your hair is fresh AF.