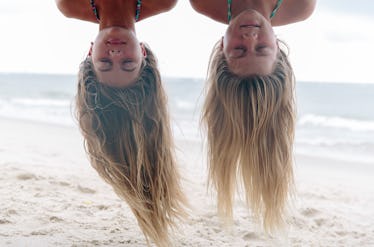 7 Easy Beach Hairstyles For When You're Feeling Lazy AF On Spring Break
We're all eagerly counting down the days until spring break. It truly is the best time ever, because we're getting that much-needed break from the stresses that are school and work. Expect to see us being lazy AF the whole time soaking up some sun. That's why a beach trip is the ideal place to be. It's a vacation where you're just required to nap on the sand, without a priority in the world besides rotating with the sun. It's honestly the lazy girl's dream come true. Even though we're all about embracing those chill, relaxing vibes, that doesn't mean we can't have awesome hair the entire time with some easy hairstyles for the beach.
You'll be too busy swimming around, reading that book you've been dying to get to, and sipping a milkshake on a float with your friends. You probably want to look fab for all of your Instagram vacation pictures, but you don't want to break a sweat doing it. These seven hairstyles will help you achieve that look just perfectly.
You'll feel like you woke up like this, because you literally just woke up and threw it all together. Some of these hairstyles are even perfect for wet hair, because you'll want to dive into the water without a care. So, spend more time catching some waves, and less time in front of the mirror styling them. You look fab, and the ocean is calling your name.