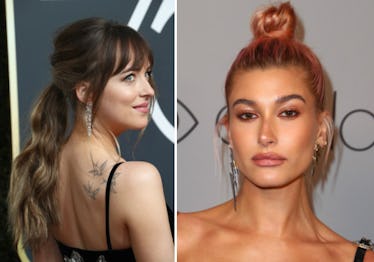 The Hairstyle You're Meant To Rock This Winter, Based On Your Myers-Briggs Personality Type
Frederick M. Brown/Getty Images Entertainment/Getty Images/Joe Scarnici/Getty Images Entertainment/Getty Images
I personally never know which hairstyle to choose. Should I opt for the low-maintenance pony, or impress all the creatures of my morning commute with a crown of milkmaid braids? If you're super indecisive (like myself) and you're having trouble ideating the best winter hairstyles to express your personality this season, why not turn to your Myers-Briggs personality type for answers? If my personality type can tell me how I function in society and explore my deepest desires, then it can certainly determine whether or not I should attempt a chignon.
In the harsh winter weather, no one wants to mess with styles that dry out hair or emphasize dehydrated, frizzy texture. So often, we opt for polished AF ponytails and soft curls slicked down with palms full of moisturizing hair oils. This change in the weather might have you experimenting with looks that you've never dreamed you'd try, like sleek gelled ponies and tiny teetering top knots.
Pushing the hair envelope can be a bit daunting when you're used to the same old styles. You might not even know where to start. If you're feeling a little uninspired, then scroll straight to your Myers-Briggs personality type and get the (hair) ball rolling.
ISTJ
Let's be real, ISTJ. You don't have time to f*ck around with a complicated hairstyle. You have a lot to do and you're on a tight schedule. A low, messy ponytail is perfectly chic but takes very little effort to create. We know you want to spend more time getting stuff done than doing your hair, and this look is perfect.
ISTP
Never one to shy away from daring trends, ISTPs are totally down to try out something new. Luckily, you're also creative enough to figure out how TF to execute this voluminous faux hawk with braids.
ESTP
Bold and original, ETSPs are born edgy AF. Achieve this top knot with a twist by using a temporary hair tinting product, like the IGK Girls Club Color Spray ($20; sephora.com). If you really watch to be extra, match your makeup to your hair hue for ultimate monochromatic realness.
ESTJ
You hate chaos, ESTJ, so a big, voluminous 'do is out of the question. Instead, go for something orderly and sleek, like this slicked-back look. It'll have people turning heads for all the right reasons.
ISFJ
A modern milkmaid braid moment is super fitting for you, ISFJ. It's soft and sweet, just like you are.
ISFP
A messy, curly updo in an interesting, unnatural hue is fitting for an ISFP. Maybe your bun is even held up by that pen you were using earlier to write dramatic poetry about that guy who took you for ramen that one time. The more whimsical the hairstyle, the better.
ESFP
ESFPs are always bold in the best way, so a futuristic tight top knot will separate you from the crowd. The tiny braided detailing in the back is totally rad too.
ESFJ
A romantic and soft '60s style half-up situation has ESFJ vibes written all over it. It'll draw others to you like a moth to a flame since you're such a social butterfly yourself.
INFJ
We INFJs are creative perfectionists and fiercely private, so a super dramatic, oversized chignon will let you show off your personality without attracting too much unwanted attention. Just make sure no hair is out of place.
INFP
An out-of-this-world, comically-larger-than-life, oversized bun is fitting for an INFP. It's a little overzealous and impractical in the best way, just like you.
ENFP
You get stressed way too easily, ENFP, so just slap a little product onto your hair and embrace your natural texture. A tousled, textured 'do is v low stakes.
ENFJ
You need a look that's just as soft and dreamy as you, ENFJ. A boudoir-appropriate ponytail should be right up your alley.
INTJ
You need some structure, INTJ, and only you can tackle this architectural updo.
INTP
Just like INTJ, you benefit from a little bit of structure, but you have a bigger distain for rules. This voluminous pony, with it's vertical height and soft texture, will give you the best of both worlds.
ENTP
You need a look that's as aggressive as you, ENTP, and a shiny, slicked back styles will show the world that you're not to be messed with.
ENTJ
A slicked-back ponytail gets the job done quickly and efficiently, ENTJ. No muss, no fuss.