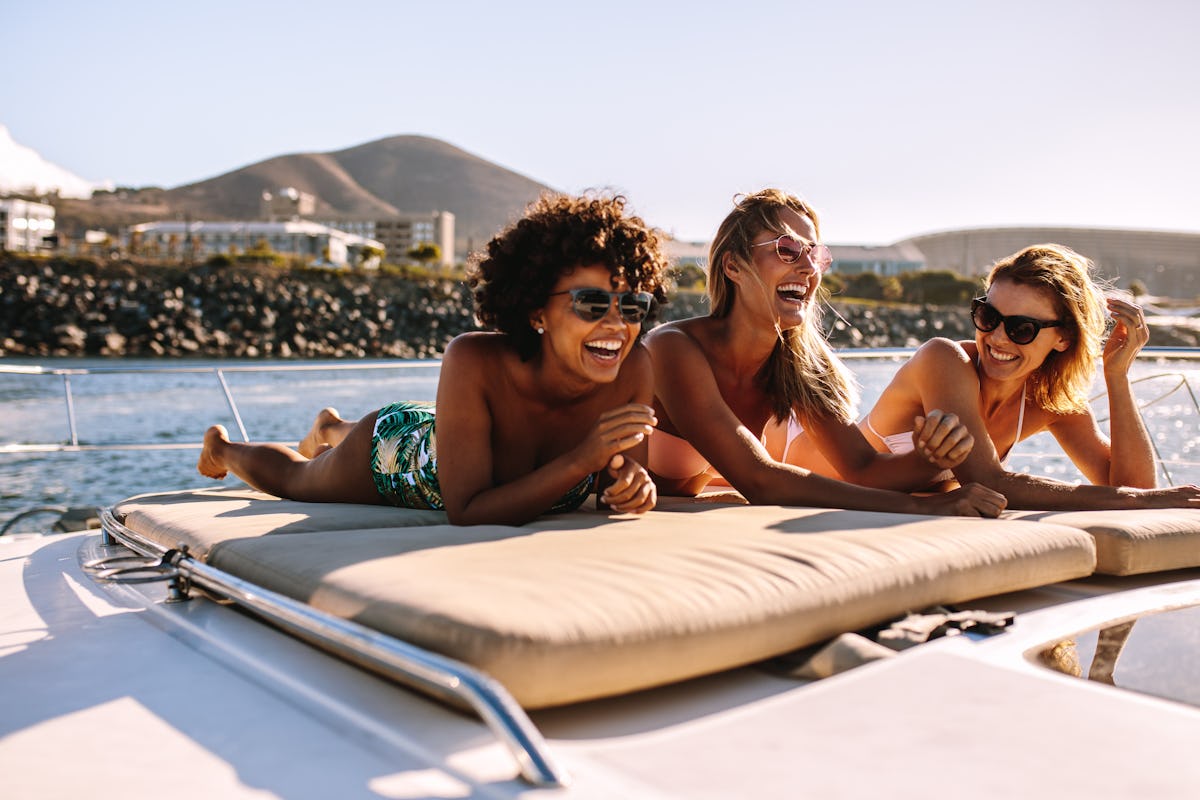 30 Captions For Boat Pics When You're Having Yachts Of Fun With Your Friends
Shutterstock
There's nothing quite like boating on a hot summer day. The sun beating down on you isn't as unbearable when the cool ocean breeze is blowing through your hair. You're in for a day filled with water activities and toasting rosé with your crew, so you'll need to have some Instagram captions for boat pictures at the ready.
There's so much you could be doing on the boat like fishing, waterskiing, tubing, catching up on a juicy read, or simply basking in the sunshine and working on your tan. It's essentially a day filled with Instagram-worthy moments, so having your captions ready and a Polaroid camera by your side will make posting such a breeze.
These 30 boat-inspired captions work well for any size and type of boat you might find yourself on this summer. Perhaps your family has a small speedboat they like to take out on weekends. Between tubing and cruising through the waves, you'll want to take a break and have a yummy picnic lunch or some snacks. Of course, you'll snap pics of your spread and you soaking in the rays with your your spiked seltzer close by. You might make it a full day adventure and cruise into the sunset. As the sky changes colors, you can snap some seriously gorgeous magic hour selfies.
The bigger the boat, the more chances for pics. So if you've booked a luxe cruise to the Bahamas, make sure to have tons of captions ready for your buffet foodie pics, snaps of you lounging on the top deck, and Boomerangs of you waving hello to different ports of call.
Choosing which photo to post can be difficult. But now that you have all the punny captions and boat quotes you need, sharing your ferry impressive day will be smooth sailing.
1. "Feelin' pretty peachy."
2. "Good vibes happen on high tides."
3. "It's aboat time we all made it out on the water."
4. "Partying like a lob-star."
5. "Yeah, buoy."
6. "Feeling salty about not being a mermaid."
7. "Whatever floats your boat, babe."
8. "Home is wherever the anchor drops."
9. "Thanks for being my anchor."
10. "Decided to let my dreams set sail."
11. "Find your flow, and row, row, row."
12. "Love you a yacht."
13. "Literally sailing into the sunset."
14. "I like big boats and I cannot lie."
15. "Having a reel good time with my besties."
16. "Sea ya later."
17. "I'm sorry, but this boat is knot for sail."
18. "Water you looking at?"
19. "Happy as a clam."
20. "Floating into the weekend with my rose close by."
21. "Not salty about this situation."
22. "What's up dock?"
23. "Felt cute. Might go seas the day."
24. "It's a bikini kind of life."
25. "Shell yeah."
26. "When you fish upon a star!"
27. "Summertime spritz on the sea."
28. "Having yachts of fun with you."
29. "Weekend plans."
30."Sea ya later, beach."
This article was originally published on