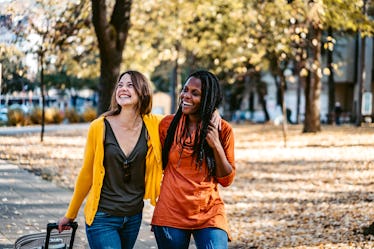 30 Funny Autumn Puns To Ring In All The Gourd Times On Instagram
Once the weather outside is officially cool enough to break out your cozy sweaters, you know that autumn has arrived. I love this time of year — not just for the crisp air and pumpkin spice-flavored everything, but for all of the fall activities you can check off your bucket list. There are apples to be picked, pumpkins to be carved, and so many Halloween activities. With all of the fun that's to come, you'll definitely want some funny autumn puns for Instagram when you're ready to post pictures that'll make your followers smile.
PSL sippin' selfies and squad pics amongst the fall foliage may have already started filling up your Insta feed, and you want to make sure your posts stand out in the crowd. An easy way to do that is with a really great caption. Sometimes, you'll get more likes just because your caption made someone literally laugh out loud — and what makes people laugh more than a really good pun? They are a bit cheesy at times, but deep down, everyone loves a good pun. So, when you're out and about being as fall friendly as you want to be, consider any of these 30 autumn puns to caption your pics. They will have everyone seriously falling in love with the season.
1. "Will you be my pumpkin?"
2. "I know it's corny, but I think the fall is a-maize-ing."
3. "The autumn just leafs a smile on my face."
4. "I've fallen for pumpkin spice and everything nice."
5. "I think I missed my falling in life."
6. "Oh autumn, please don't ever leaf me again."
7. "Hello, gourdgeous."
8. "My friends are seriously squash goals."
9. "You won't beleaf how much I love the fall."
10. "I love my pumpkin spice a latte."
11. "May the gourds be with you."
12. "With Halloween around the corner, fall is the only time I'm OK with being ghosted."
13. "Don't be afraid of falling."
14. "I donut know what I ever did without my PSL."
15. "I'm a pumpkin spice girl. Gourd power."
16. "Hey, did you see me fall?"
17. "Oh my gourd, autumn is here."
18. "Autumn, I would never ghost you."
19. "Hey pumpkin, you're looking boo-tiful."
20. "I hope you're having a gourd time this autumn."
21. "Let's give 'em pumpkin to talk about this fall."
22. "Life is gourd in the fall."
23. "Spice, spice baby."
24. "For the fall, I'm looking for a sweater that's made of boyfriend material."
25. "Beleaf me, this is going to be the best autumn ever."
26. "Donut talk to me until I've had my pumpkin spice latte."
27. "Aww shucks, I love the fall."
28. "The fall and I are cornpatible."
29. "Zero shucks were given."
30. "Don't be hay-tin on my autumn."
This article was originally published on