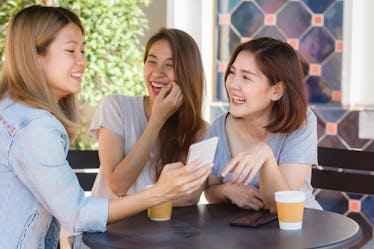 3 Zodiac Signs Who Have The Funniest Dating App Bios, So Smile & Swipe
Shutterstock
Though dating can be emotionally draining, sometimes, you've just got to giggle about it. Of course, if you've recently matched with a Libra, Sagittarius, or Gemini — aka, one of the zodiac signs with the funniest dating app bios — you may be literally rolling on the floor laughing on you read through their profile.
Whether you list the types of connections you're looking for or share about your interests, your dating app bio can give prospective matches (and potential IRL boos) a little taste of who you are. Whether you write a silly one-liner about your job or a detailed story about why your parents named you what they did, there are plenty of ways to pepper in a little joke or personal anecdote as your peruse your page. Of course, no matter your sign, your online dating profile is your space to express who you are. If you're not trying to be super funny on the apps, you never need to feel pressure to make a joke or be anyone but your amazing self.
Still, if you just swiped right on the funniest dating app bio, like, ever, chances are your new match may be one of these three signs.