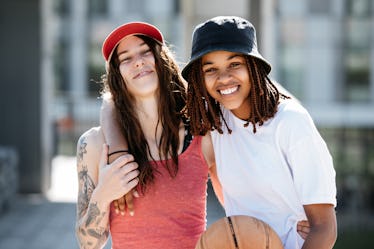 3 Zodiac Signs Who Are True Teammates In Relationships
Hello Africa/DigitalVision/Getty Images
While the lyrics to Lorde's song "Team" can apply to any sort of relationship, it hits different when you listen to it in a romantic context. Dating someone you can hold hands with, cuddle with, confide in, and have sex with is great, but have you ever dated someone who's ultra-reliable and has your back, 100% of the time? Someone who's down to be there for you no matter what? That feels even better. If you want to date a real ride-or-die, look for the zodiac signs who are teammates in relationships.
These signs will be your partner in the absolute truest sense of the word, and fully share the effort when it comes to your relationship. They'll pull their weight in organizing date nights, bae-cations, and planning for your shared future. They'll split costs with you, whether it's car maintenance, rent, or date night, and they'll pitch in when it comes to tidying up your shared space. Count on them to help you study or prep for presentations, and to offer emotional support when the going gets tough. They want to be your number one confidante, and are looking for the same in return — a true 50/50 relationship.
Here are the three zodiac signs you'll score big with if you're looking for a solid pick for your team.