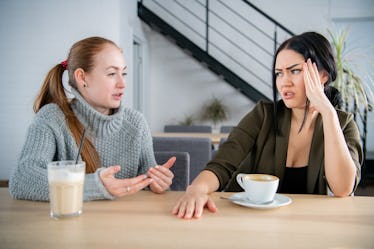 3 Zodiac Signs Who Are Least Compatible With Libras, So Find A Balance
Shutterstock
Can I be honest? Libra is such a catch. Ruled by Venus, the planet of love and beauty, Libra knows how to make everything better. They're great listeners, creative thinkers, and often make amazing art. In fact, creativity is their superpower. Lively and diplomatic, this air sign remains cool under pressure and loves bringing strangers together. Of course, nothing's perfect all the time. So when it comes to finding love, these three zodiac signs who are least compatible with Libras may not strike the best balance.
Libra knows what to say, what to wear, and how to make everything more beautiful. Though anyone would be lucky to date one, some signs may be more inclined to tip the scales. Though astrology doesn't dictate everything, looking at compatibility can be pretty informative. While every relationship is different, learning about your zodiac sign can help you learn more about the ways you communicate with the people around you — especially the people you date. From conflicting priorities to differing daily needs, some zodiac signs may struggle to connect romantically with the scales, no matter how charming Libra is.
Here are the three zodiac signs that may struggle to connect with Libras romantically.