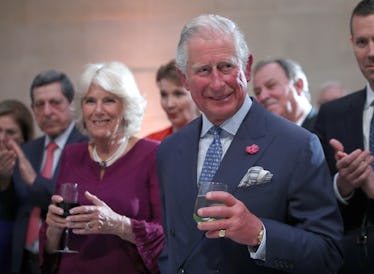 3 Ways Prince Charles' Marriages To Diana & Camilla Are Completely Different
WPA Pool/Getty Images Entertainment/Getty Images
Prince Harry — sixth in line to the British throne and everyone's favorite ginger — is set to marry Meghan Markle this Saturday at St. George's Chapel in Windsor, and the world can hardly wait. (Yes, I will be heading to Windsor for the ceremony! No, I did not receive an official invitation!) And between Meghan and Harry's impending nuptials and the popularity of shows like The Crown, it seems that we're all suddenly transfixed by rules of royal romance, including Prince Charles' marriages to Diana and Camilla.
Though the House of Windsor has maintained that traditionally English "stiff upper lip" mentality in the face of several (allegedly) scandalous love affairs — and though it's impossible to really know what goes on between any royal couples behind closed doors, we commoners can deduce bits and pieces about these various relationships. By looking at both couple's astrological compatibility and body language, it's clear that one coupling seems much more comfortable than the other. Beyond the differences in their feelings (or what we perceive to be their feelings) toward one another, though, there are also a handful of pretty straightforward differences between both relationships and subsequent marriages.
Here are three ways that Charles' two marriages were totally different, in case you were wondering.