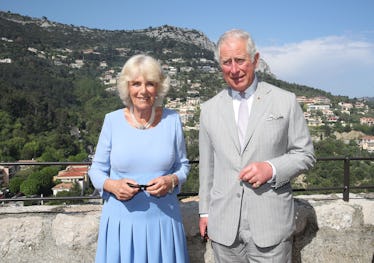 5 Things You Never Knew About Prince Charles & Camilla Parker Bowles' Relationship
Chris Jackson/Getty Images Entertainment/Getty Images
Prince Charles and Duchess Camilla have endured an incredibly long and windy road to end up together. While they've known each other almost 50 years, they only got married in 2005. They were both married and divorced before they tied the knot with each other, and were ensconced in a not-so-secret affair throughout both of their separate marriages. While you may be tied up in Meghan and Harry mayhem at the moment, here are some facts about Prince Charles and Camilla Parker Bowles' relationship to get you even deeper into your royal family obsession.
In case you're not caught up on some of the juiciest royal family drama in history, here's a refresher: Prince Charles married Diana Spencer in July 1981, despite still talking to (and allegedly still being in love with) ex-girlfriend Camilla. During his marriage to Diana, he remained in contact with Camilla, even though he knew his family didn't approve of her. According to a biography about Prince Charles titled Rebel Prince: The Power, Passion, and Defiance of Prince Charles, by Tom Bower, Queen Elizabeth once told her son, "I want nothing to do with that wicked woman," referring, of course, to Camilla.
Yikes — not exactly what you want an in-law saying about you. However, the two eventually found their way back to each other, and are now married. Here are other tidbits you may not know about the scandalous relationship between Charles and Camilla.