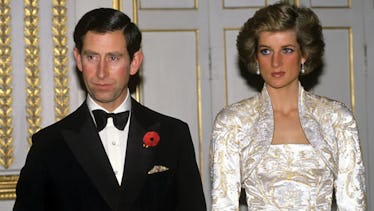 Here's Everything Prince Charles & Princess Diana Said About Their Relationship
There are few things I love more than a royal wedding (see you on May 19, Harry and Meghan!) — though there's one glaring exception. As any royal fan worth their soul can tell you, the union of the late Princess Diana and Prince Charles (William and Harry's parents) was far from a storybook romance. Sure, their wedding at St. Paul's Cathedral in London was among the most iconic in history. But, as both Princess Diana & Prince Charles' quotes about their marriage indicate, their love was... well... nothing like the "incredible," "romantic," and "very happy" affair that Meghan Markle has described her relationship with Prince Harry to be.
If you haven't read a dozen books on the royal family like I have (everyone needs a hobby, OK?), I'll catch you up. Prince Charles and Princess Di got married in 1981 — mere weeks after Diana's 20th birthday — but many felt their union was more of an obligation than a celebration of love. Rumor has it, Charles felt pressured to settle down and marry Diana after they'd been dating for just a few short weeks (though Charles was truly in love with Camilla Parker Bowles, now his wife and the Duchess of Cornwall).
Not long into their marriage, Charles began an affair with the then-married Camilla, and "whatever" love had once existed between himself and Diana seemingly unravelled as a result. The pair eventually divorced in 1996 — when Prince William was 14, and Prince Harry 11 — and Diana was tragically killed in a car accident in Paris the next year.
Though neither Charles nor Diana spoke much about their relationship while Diana was alive (nor has Charles spoken much about the princess publicly since her death), these various snippets give us a sense of what their marriage must have been like, and it's a bit heartbreaking. But I'll let you read for yourself — here are 11 of Diana and Charles' quotes about their relationship and marriage.