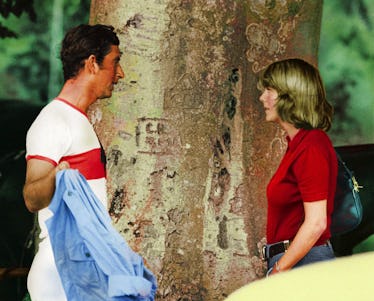 Charles & Camilla's Body Language Over The Years Shows Their Relationship Has Changed
REX/Shutterstock
Of all the royal love affairs, I think it's safe to say that Charles and Camilla's is among the least popular (sorry, Duke and Duchess — sometimes the truth hurts). While everyone adores watching William and Kate's family grow, and Americans and Brits alike are anxiously awaiting Harry and Meghan's upcoming nuptials, it seems that few royal-watchers are swooning over Charles and Camilla's relationship. And Prince Charles and Camilla Parker-Bowles' body language towards one another doesn't exactly make us love their love, if you know what I mean.
Though the pair's on-again, off-again romance has stretched on for over four decades — and they've now been married for more than 13 years — the future king and his wife aren't particularly effusive around one another (at least not when the cameras are rolling). We don't see them holding hands or wrapping their arms around one another, as we do William and Kate or Harry and Meghan. That said, after chatting with body language expert Tonya Reiman, it seems that Camilla and Charles are definitely comfortable around one another and have a natural, solid relationship — which wasn't always the case for the Prince of Wales and Duchess of Cornwall.
In case you don't read decades-old tabloids as fervently as I do, I'll catch you up on Charles and Camilla's relationship to date, as reported by The Telegraph. The two met and began dating all the way back in 1971, before Camilla (née Shand) broke things off and married Andrew Parker-Bowles two years later. In 1979, Charles met Diana Spencer; they got engaged and married in 1981.
Five years later, around 1986, Charles and Camilla allegedly reconnected — though both were still married to their respective spouses at the time. USA Today reports that Charles and Diana did not officially separate until late 1992, and their divorce was finalized in 1996, just a year before Diana's tragic death in Paris.
Both Charles and Camilla were vilified by the press and public in the months and years that followed, as many conspiracy theorists claim Charles was responsible for Diana's fatal car crash, (a story that many tabloids ran), which I would imagine puts a fair amount of stress on any couple.
All of that said, in 2005, the two officially tied the knot at a civil ceremony in Windsor, and it seems their most tumultuous days are behind them — or so their body language suggests. Here's a look at how Charles and Camilla's body language has, like their relationship, evolved and changed over time.