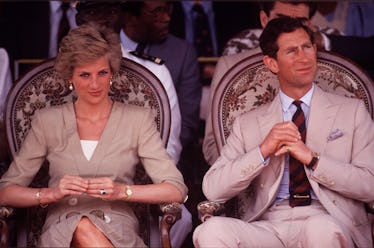 What Astrology Reveals About Prince Charles & Diana's Marriage & Divorce Is Heartbreaking
Confession: I am completely obsessed with Meghan Markle. She was just a regular American woman (well, as "regular" as a successful actor can be) who was swept off her feet by a real life prince. It's basically a freakin' fairytale! But she's not the first non-royal to marry a Windsor and capture our hearts. Diana Spencer, the original "people's princess," was the first commoner to marry a British royal in over three centuries, when she married Prince Charles. Sadly, they split after 15 years, and Prince Charles and Diana's astrological compatibility goes a long way toward explaining why, despite an epically romantic beginning, the pair was just not meant to be.
Prince Charles is a Scorpio (born Nov. 14, 1948) and Diana was a Cancer (born July 1, 1961), and while these two passionate water signs have the potential to be incredibly compatible, they can also be a highly volatile pairing who can, when things take a bad turn, spiral quickly and are nearly impossible to bounce back. Sadly for Charles and Diana, this proved to be the case, and what started off as a fairytale became toxic. There have been a handful of books on the subject, but here is how their astrological traits may have contributed to the downfall of their relationship.