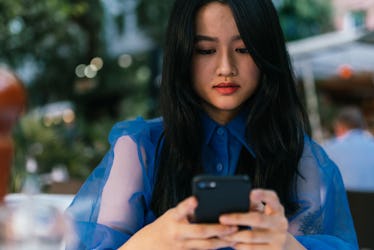 3 Signals You Can Spot From Texting That Mean They Think They Could Do Better
Ever had the sneaking suspicion that someone you're dating is keeping one eye out in case other dating prospects come along? Needless to say, it's not a good feeling. Not only can this stoke your insecurities, but it can also make it next to impossible to build trust and emotional security with your SO. Fortunately, there are texting signals that mean they think they could do better. And by keeping a lookout for these signs, you may be able to gain a more realistic outlook on your current relationship and even possibly avoid some serious heartache down the line.
There are lots of things you can pick up on via a crush's or partner's texts. For example, you might be able to sense when they're lying to you, or when they're falling head over heels for you. You also might be able to discern when someone is having doubts and distancing themselves, or being unfaithful. In other words, your text convos can reveal a lot about your relationship with someone — you just have to know what to look for.
Wondering whether your boo thinks they can do better? Their behavior IRL can certainly tip you off, but so can their digital communication habits. So, watch out for these possible texting red flags.