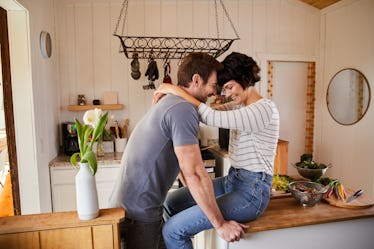 These 3 Personality Types Will Ask You To Move In With Them ASAP
Goodboy Picture Company/E+/Getty Images
The decision to forfeit your respective abodes and become roomies is a massive milestone for any couple. Some people feel ready to take that step after just a few months of dating, while others wait years. As it turns out, there are certain Myers-Briggs personality types who'll ask you to move in with them ASAP because, well — that's just how they roll.
The truth is, there's no right or wrong timeline to move in with your partner. Every relationship progresses at a different pace, and to boot, each individual might have unique needs as far as personal space and alone time are concerned. That explains why you may have waited three years to move in with your ex, but somehow you're totally down to take that leap with your new boo after only three months. While some personality types tend to be more cautious and risk-averse overall when it comes to moving the relationship forward, others are more than eager to take the plunge and share a living space. For example, Intuitive Feeling (NF) personality types are known for being idealistic and focused on future possibilities in any given situation, which may make them more likely to ask you to move in early on.
While experts caution against relying on solely the Myers-Briggs type indicator to determine whether or not you're compatible with someone, many do acknowledge that it's a useful instrument in appreciating some of your partner's behavioral tendencies.
"Understanding type is an eye-opening factor because it helps understand where that person is coming from, and what their preferences are," Jan Tanaka, a Certified MBTI Practitioner, told Bustle. "It [can help] spark a discussion about where you can flex style to someone else, and how the other person can flex style to effectively communicate with you."
Obviously, your Myers-Briggs personality types shouldn't be the most important factor in your decision to become roomies. Feelings, finances, and your goals for the future should all play big roles, too. But just so you know, these personality types might feel ready sooner rather than later.
This article was originally published on