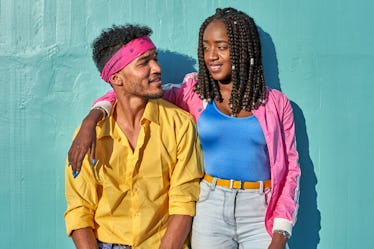 3 Personality Types Who Always Prefer Casual Dating, So Keep It Light
Shutterstock
There's one simple truth that every modern-day dater must accept in order to find romantic happiness: Not everyone wants a serious relationship. And guess what? That's totally OK. Some people would just rather keep it light and breezy — either because they're super busy, focused on their career or other priorities, or want to see multiple people at once to figure out what's important to them. In fact, there are specific Myers-Briggs personality types who prefer casual dating, and being aware of them can eliminate some of the stressful guesswork while you're swiping away on your app of choice.
How is knowing these types helpful? Say you're looking for a long-term committed relationship. If you can decipher someone's personality type, or better yet, they can tell you their type flat out, then you may have an easier time detecting whether you have the same romantic goals. Or, if you prefer casual dating yourself, then it's obviously advantageous to know which personality types are on the same page as you in that regard.
Every individual is unique, of course, and their personality type can't dictate with total certainty how they feel about casual dating. That said, certain traits can make someone more likely to seek out these kinds of romantic experiences. For example, Perceivers have a tendency to prefer casual dating, because they value their freedom and personal space immensely.
So, whether you're single and eager to mingle with equally laid-back daters, or seeking a long-term romantic partner, note that these Myers-Briggs types may be more apt to keep it casual.