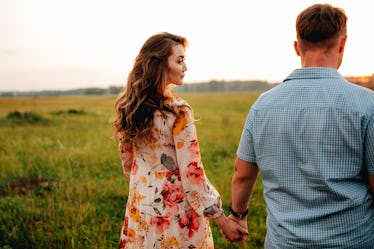 3 Personality Types Who Make The Most Loyal Partners, So No Worries
Shutterstock
As far as desirable qualities in a committed partner go, loyalty is typically up there with honesty and kindness. But how can you tell if someone is going to stick by you, no matter what? As it turns out, their personality may offer some valuable insight on that front. The Myers-Briggs personality types who make the most loyal partners are the ones who place a high value on their personal relationships are driven by a feeling of responsibility, and who have a strong ethical and moral code informed by long-standing traditions.
Interestingly, the personality types who tend to be the most loyal have a few specific traits in common, too. For example, they are often Judgers, which means they prefer to approach their lives with structure and planning to create a sense of predictability (as opposed to Perceivers, who prefer to keep their options open). Controlled and decisive, Judgers are more likely to stick to their guns on fidelity if they've decided to commit to someone, whereas a flexible and carefree Perceiver may be more inclined to "wing it" when temptation comes along.
Looking for a partner who's loyal AF? Note that these types are known for being faithful by nature.