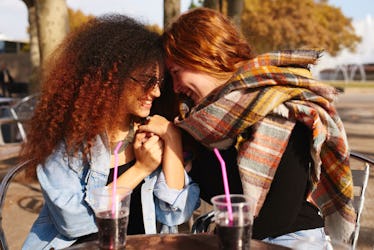 Here's How You'll Know For Sure Your Partner Is Faithful, Experts Say
I don't spend a lot of time and energy worrying about whether or not my partner is faithful, because the way they treat me gives me all the reassurance I need to know they aren't stepping out on me — or at least, that it's very unlikely. What I'm saying is that if you're wondering how to know if your partner is faithful, just pay attention to how they treat you. While I'm confident in my current partner — to be honest, if I wasn't I'd be out the door quick, because I am done worrying about partners and fidelity — I've done my share of that kind of stressing by trying to stay with partners who just weren't fully invested. I'll never do that again, and you shouldn't have to, either.
So, instead of focusing on all the hints and clues that your partner might be cheating, let's put a positive spin on things and focus on all they ways the experts say you can tell if you partner is being faithful. That way, you can stop sweating about it and just enjoy your relationship. Here is how the experts say you'll know your partner is all about you, and you only.