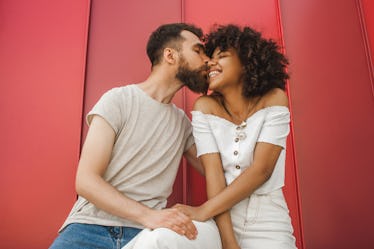 3 Myers-Briggs Pairings That Have The Longest Relationships, So Rejoice
Shutterstock
There's something magical that happens when two perfectly compatible personality types get together. The relationship not only works on a practical level, thanks to shared values and priorities, but it actually brings out the best in both partners, too, allowing each individual to grow in ways they never thought possible. And you may be surprised to learn that the Myers-Briggs personality pairings that have the longest relationships are actually pretty similar across multiple traits.
While there's a longstanding belief that opposites attract, that isn't necessarily the case. That definitely doesn't mean you have to date someone with your same exact personality — but keep in mind that some of the most compatible pairings have two to three type preferences in common. And some type preferences may have more weight than others. For example, a shared preference for Introversion or Extraversion doesn't typically matter as much as the last three scales (S/N, T/F, and J/P), which play a powerful role in how we communicate, prioritize, and make decisions. Couples who share either a Sensing or Intuitive preference usually have a similar world view, while those who have a Thinking or Feeling preference in common will often express and receive affection the same way.
So, wondering which personality types are a match made in heaven? These pairings are primed to enjoy a long-lasting partnership.