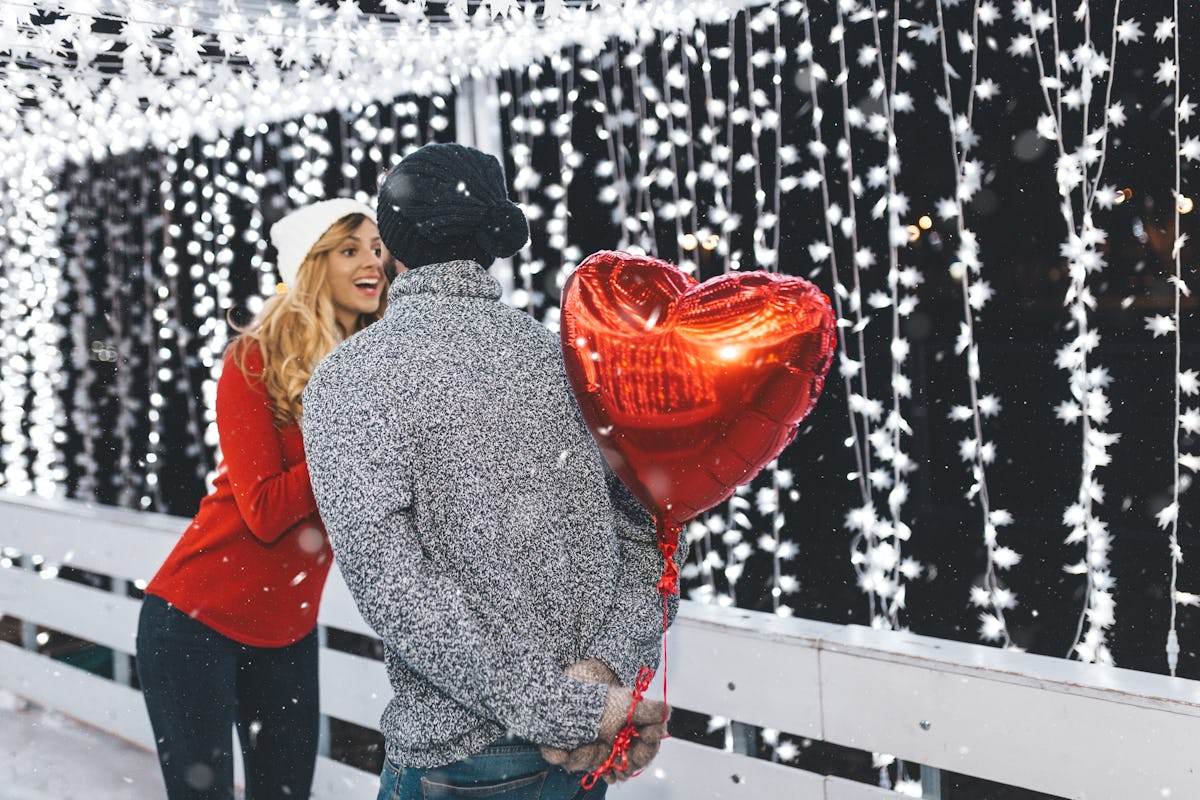 26 Funny Cupid Captions For Valentine's Day & Feeling Lovestruck
Shutterstock
When Valentine's Day comes around, it's natural to feel a little lovestruck. Stores are pulling out their cuddly bears and pretty boxes of chocolates, and the romantic restaurants in your city are coming up with themed menus. You walk by stands that are selling fresh roses, and can't help but want a few for yourself. Why not purchase and take pics with those buds, and post some funny Cupid captions on Instagram to show the world you're celebrating in your own way?
Those bright reds, pop of purples, or pastel shade of pinks would look perfect on your feed — especially after you apply some of the best preset packs of the season to your pics. Your SO could be in the photo, too, giving you a sweet kiss for the lens or holding your hand, fingers completely intertwined. The options are endless and can even revolve around your plans for Feb. 14. You could capture your romantic dinner, perfectly plated for your followers to see, or the cute gifts you bought for your bestie for the gal pal version of Valentine's Day, otherwise known as Galentine's Day.
If a significant other isn't going to be in the pic, you can pose with a bunch of heart-shaped balloons or your loving pup. Either way, you need a caption inspired by Cupid to complete your post's #look. After all, it's the season to be lovestruck, and who knows more about being hit by love than Cupid and all of his arrows?
1. "You're cuter than Cupid."
2. "Keep calm and get your Cupid on."
3. "Dear, Cupid. Next time hit us both with a little love."
4. "I'm with Cupid on this one."
5. "All you need is love and to be struck by one of Cupid's arrows."
6. "Not today, Cupid."
7. "Cuddling up and waiting for Cupid."
8. "Until further notice, assume that Cupid is my Valentine."
9. "Valentine's Day wouldn't be complete without Cupid."
10. "You got more game than Cupid and his arrows."
11. "Cupid got me good."
12. "I doughnut know what I'd do without you or Cupid by my side."
13. "I talked to Cupid, and he said we're meant to be."
14. "Sending you Cupid and a heart, for whenever we're far apart."
15. "I've been struck by your love and Cupid's bow and arrow."
16. "Cupid only had one arrow, and I'm glad he used it on you."
17. "I've been believing in soulmates and being struck by Cupid's bow since birth."
18. "Will you accept this rose and being struck by Cupid's bow?"
19. "Let's be lovestruck together."
20. "Chocolate cupcakes and Cupid's arrows."
21. "Thanks, Cupid."
22. "Find your wings. Be your own Cupid."
23. "We're all winging it. That's what Cupid's doing, too."
24. "Borrowing Cupid's wings for the weekend."
25. "Love and Cupid's arrows are in the air."
26. "I travel on Cupid's wings and fall in love with the world."
This article was originally published on