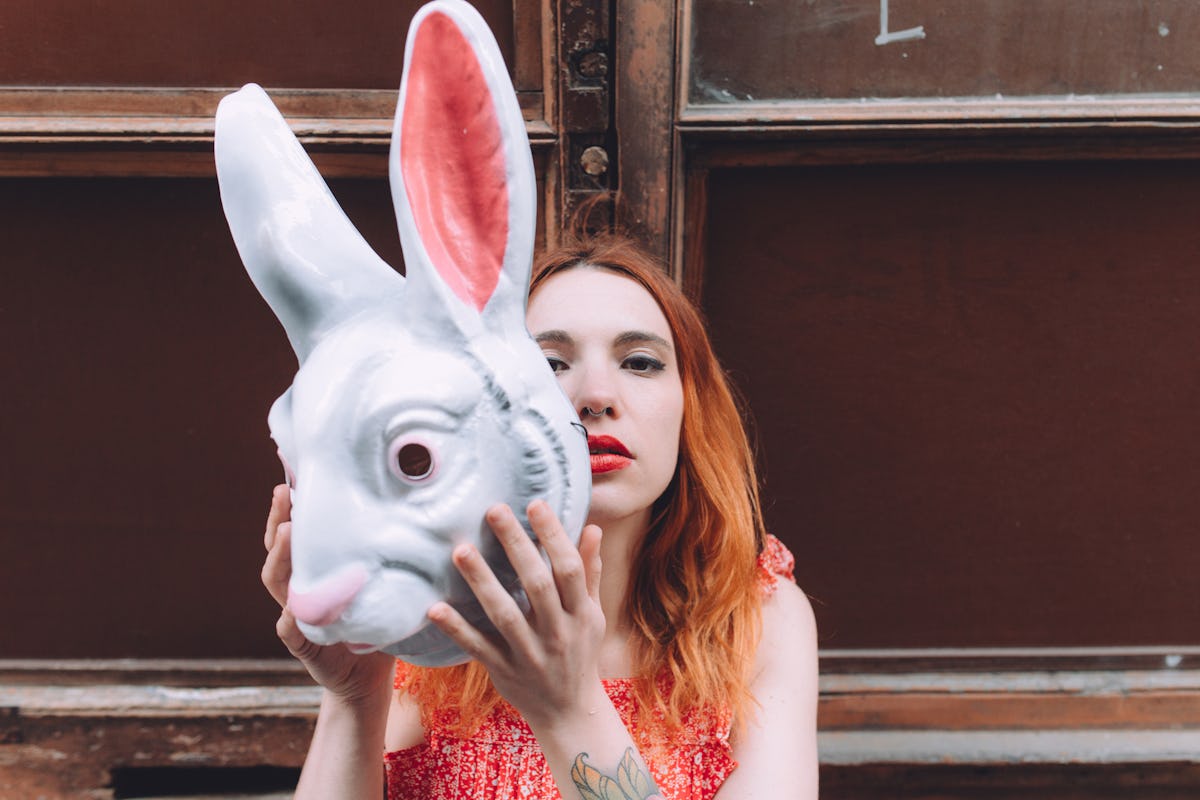 26 Captions For Your Bunny Costume & Hopping Into Halloween
Thais Varela, Stocksy
Has anyone seen my cotton tail? It's that time of the year when everyone's pulling out their Halloween costumes or scrolling through Pinterest for some fresh ideas. Your bestie may be dressing up as one of her favorite sitcom characters, and your roommate may want to be a baseball player for the third year in a row. You've given your outfit some solid consideration, and now you're in serious need of captions for bunny costume, because you're hopping into the spookiest season of the year.
It may seem like it's a little soon to be pulling out your pair of ears, along with some decorations for Halloween. Summer feels like it was yesterday, and you haven't swapped out all of your sundresses for sweaters quite yet. You may walk through the stores, and be shocked to see bags of candy and pumpkins already out on the floor. There are aisles and aisles of chocolate treats and pretzels, and you want to buy them all. You tell yourself it's "too soon," and then decide to pick up some local apple cider doughnuts at a farm stand on your way home.
Soon enough, the ghosts and goblins will come out, too. You'll hang orange and purple lights around your room, and watch Hocus Pocus on the weekends. The weather will get colder, and you'll snuggle up in your big sweaters. Don't feel ridiculous for prepping your costume in advance, and grab one of these 26 captions for your upcoming post on Instagram.
1. "Everybody needs some-bunny sometimes."
2. "Keep calm and hop on."
3. "Hopping my way into Halloween."
4. "If you ever need to talk, I'm all ears."
5. "Never met some-bunny I didn't like."
6. "Falling down the rabbit hole and straight into wonderland."
7. "Silly rabbit, candy isn't just for kids."
8. "Pretty sure I have more energy than the Energizer bunny."
9. "I'm late, I'm late, for a very important date." — Alice in Wonderland
10. "Hopping and shopping are my favorite things to do."
11. "It's the most boo-tiful time of the year to be a bunny."
12. "Bunnies aren't spooky, but let's pretend they could be."
13. "As sweet as a bowl of candy, just with a cotton tail."
14. "Eat, drink, and be a bunny."
15. "Being a bunny was a spook-tacular idea."
16. "I'm up to my ears in candy and all things Halloween."
17. "Until further notice, carrots are better than candy."
18. "There's another bunny here? I don't carrot at all."
19. "Pumpkins, candles, and cotton tails."
20. "Traded my oversized sweaters for a cotton tail."
21. "When in doubt, hop it out."
22. "Have yourself a very hoppy Halloween."
23. "Take time to make your soul hoppy."
24. "This is our hoppy place."
25. "Best friends who hop together, stay together."
26. "Hoppy-ness that's homemade."
Update: The cotton tail has been found. Now, it's time to have a backyard photo shoot with it or host a virtual Halloween party at home. Your besties could tune in with a bunch of snacks, and you could play a bunch of party games like "Never Have I Ever." If you find yourself hopping in front of the camera, feel confident that you have such a classic costume and captions to pair with it on social media.
This article was originally published on