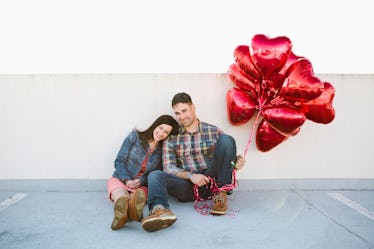 5 Instagram Captions For Your Valentine's Day Engagement That Are Bound To Bring On The Likes
Announcing your engagement on Instagram is kind of a big deal. Announcing it on Valentine's Day takes it to another level. On Feb. 14, countless couples will be declaring their love in different ways, so obviously you'll want to differentiate your proposal post. Sure, you could go with the tried-and-true "I said yes!" "Put a ring on it," or a simple heart emoji, but those Instagram captions for your Valentine's Day engagement will hardly make your post stand out. Instead, you'll need to craft up something a tad more clever — oh, and obviously cute AF.
Here's the thing. It's no secret that it's a popular time of year for engagements. In fact, WeddingWire research revealed that 40 percent of proposals happen between Dec. 24 and Feb. 14, and after Christmas, Valentine's Day is the top pick for popping the question. So obviously, you're going to need to get creative with your IG caption if you want your post to shine amidst a sea of other smug couples and #diamondporn close-ups. But what should you say? How can you possibly capture such a powerful, life-altering event while still keeping your caption short and sweet?
If you're itching to announce your Valentine's Day engagement via Insta, here are a few caption ideas that are bound to bring on the likes.