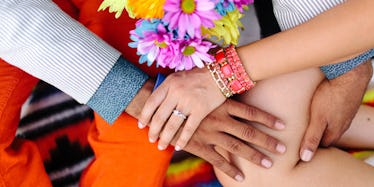 15 Best Engagement Photo Captions That Aren't "I Said Yes!"
Kristin Curette Hines
Your bae just got down on his or her knee and popped the question you've been waiting to hear your entire life. Now you've got the ring and plenty of wedding plans to make!
One thing you aren't going to have to worry about is kicking out a cheesy engagement announcement on social media.
You may not want a full engagement party (although, why not?), but you should definitely make sure that when you tell the world about making your love permanent, it's a cute, fun statement that represents your personalities.
So here are a few engagement captions to post on Instagram when you finally break out the wedding news.
1. "He asked. I said 'about damn time'." — Unknown
2. "Traveling from Miss to Mrs." — Unknown
3. "You are my today and all of my tomorrows."— Leo Christopher
4. "Does this ring make me look...engaged?" — Unknown
5. "All that you are is all that I'll ever need." — Ed Sheeran
6. "Diamonds are forever." — Shirley Bassey
7. "I love you and that's the beginning and end of everything."— F. Scott Fitzgerald
8. "He's more myself than I am. Whatever our souls are made of, his and mine are the same." — Emily Bronte
9. "No measure of time with you will be enough. But let's start with forever." — Stephanie Meyer, Twilight
10. "I'll never finish falling in love with you." — Nicole Williams
11. "He stole my heart, so I'm stealing his last name."  — Unknown
12. "I never want to stop making memories with you."— Beverly Preston
13. "I choose you and I'll choose you over and over. Without pause, without a doubt, in a heartbeat, I will keep choosing you. — Unknown
14. "Sh*t just got real! Like...diamond real." — Unknown
15. "Constantly, consistently, continually you."— Swapnil Pareek
Accompanied with a gorgeous photo of your ring or whatever symbol you and your partner choose to mark your union, these quotes provide a sweet non-cheesy way to capture your engagement.