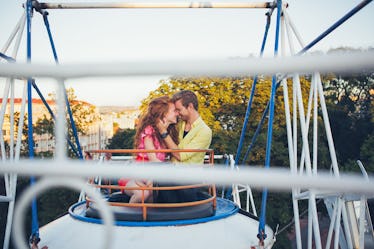 5 Valentine's Day Proposal Stories That Are Straight Out Of Hollywood
When it comes to choosing the perfect day to propose, many choose Valentine's Day. And why shouldn't they? It just so happens to be a day all about expressing and celebrating love. So, it goes without saying that Valentine's Day proposal stories tend to be about as sweep-you-off-your-feet romantic as it gets.
And as it turns out, this holiday is pretty popular for engagements. In fact, one 2017 study by jewelry retailer James Allen revealed that 43 percent of millennials say it's their ideal to propose or be proposed to. Meanwhile, an Ebates and Propeller Insights study found that a whopping 48 percent of Americans believe a Valentine's Day proposal is actually romantic as opposed to cheesy.
That said, popping the question on Feb. 14 requires some serious effort in order to ensure it's cute rather than corny (we've all seen the engagement announcements involving a ring hidden in a box of chocolates). Ultimately, the Valentine's Day proposal stories that make our hearts go pitter patter are the ones that have personal significance, thoughtful details, and of course, an element of surprise.
Whether you're looking for some proposal ideas and inspiration or just die for a good engagement story, read on for some real-life, romantic tales of how five people popped the question on Feb. 14.