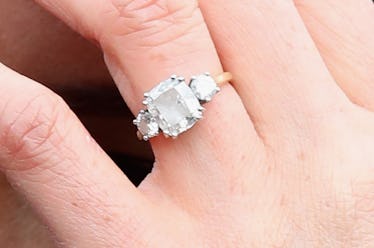 This Couple Proposed To Each Other At The Same Time & My Heart Can't Take It
Chris Jackson/Getty Images Entertainment/Getty Images
In honor of Valentine's Day, this video of a couple proposing to each other proves that love is real. Who knew Pictionary could be so romantic? Watch and weep.
What started as a simple group game would soon lead to a life of happiness for couple Berkeley Cade and Tori Monaco. The couple's adorable moment was caught on video, and shared on Twitter on Feb. 10. In the video, Cade and Monaco were playing Pictionary while visiting Cade's family in Washington D.C, according to BuzzFeed. During Cade's turn to draw, she attempted to draw out the phrase "will you marry me?" as a surprise proposal for Monaco. Well, it just so happens that Monaco had the same idea — and before Cade could pop the question herself Monaco was on her knee with a ring in her hand. As Cade stood speechless, she then reached for her bag and brought out a box with an engagement ring intended for Monaco. Suddenly, Cade was the one shocked.
For those who think this moment was engineered for internet fame, Cade and Monaco's reactions will make you think otherwise. Once the couple realized that a double proposal had just gone down, their shock transformed into joy.
"What the heck? This is a joke. This is a set up," Monaco said in the video while wiping happy tears from her eyes.
The couple had spent months planning their proposals separately, unbeknownst to each other.
Love truly does conquer all, even Pictionary.
Need to see it to believe it? Watch for yourself.
Following the proposal, Monaco took to Twitter to express her happiness and disbelief at the double proposals.
As all incredible internet stories do, the couple's story immediately went viral across numerous social media channels. Monaco told BuzzFeed about her nerves leading up to asking Cade for her hand.
She said,
When she began drawing the picture and had her hands shaking and was taking so long to draw the prompt, I had my heart pounding thinking she must know I am going to propose. There is no way she is proposing too. And when I got down on one knee and proposed and she was struck mute, I figured I would give a speech and she would say yes, but instead she pulls out her own ring. I was laughing at the coincidence, crying tears of happiness, and unbelievably shocked that something so perfect was happening to me.
So want some background on the world's cutest couple? Here's the scoop.
The couple started dating a year ago after meeting online. Monaco told BuzzFeed that she knew chemistry was there from the jump of their relationship.
"We are each other's first same-sex relationship," Monaco told BuzzFeed. "So we were blown away by our ability to connect with each other immediately and find the happiness we had been looking for."
The tears in my eyes are clouding my vision. Give me a moment.
Four months ago, Cade found the perfect engagement ring for Monaco and has been waiting for just the right moment to pop the question. Cade is currently stationed in Texas for the Air Force, while Monaco is a senior at the University of Texas at Austin, but ultimately decided the perfect place to propose would be with her family in Washington, D.C.
Perhaps the best part of the story? Cade's mom Kristy was in on the whole plan the entire time, from both sides. So naturally, the shadow queen planned it so both proposals would happen the exact same way.
"When in the universe will there ever be two lesbians that want to propose at the same time, the same day, the same place, and the same way? I have to get it right," Kristy said, according to her (now) daughter-in-law Monaco.
Best. Valentine's. Day. ever. Congrats you two!