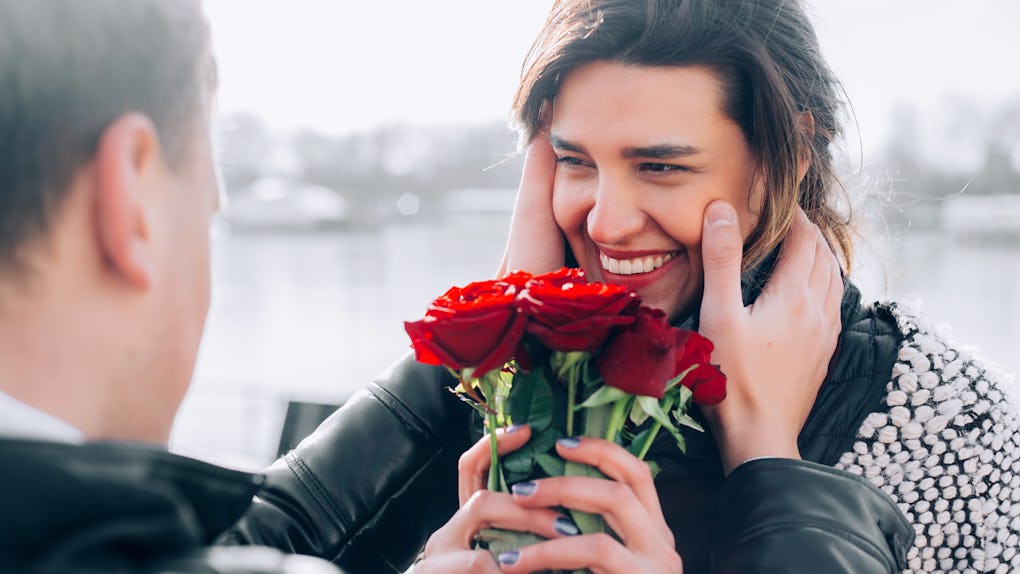 Studio Firma/Stocksy
25 Instagram Captions For Your First Valentine's Day As A Married Couple, When You Found Your Forever Valentine
You've carefully selected your wedding hashtag, gleefully tied the knot to your sweetie, and sent out all your thank you notes. You did the thing. And you have amazing photos to show for it. Of course, now you still have to think of the perfect Instagram caption for you first Valentine's Day as a married couple. After you've decked the halls and rung in the New Year, Valentine's Day can be a fun and sexy time with your new spouse, all in the name of love.
Whether you're spending it with breakfast in bed, day dreaming at work about getting it on later, or on some romantic getaway your boo whisked you off to, there are plenty of captions for your first Feb. 14 as a married couple. If you're cutesy, funny, sexy, or sentimental, a Valentine's Day Insta for your boo can be a little way to say, "I'm thinking of you and I'm happy we committed our lives to each other," in front of all of your friends and families.
If you're looking for the perfect Instagram caption for your first Valentine's Day as a married couple, look no further. Here are eight ideas shot directly from Cupid's bow and arrow.
1. Happy Valentine's Day, Mx. [Last Name].
2. You're the avocado to my toast.
3. The spousey and I on Valentine's Day.
4. Love you today, tomorrow, and forever.
5. Happy Feb. 14 to my forever Valentine.
6. So glad that I went from your snack to your entree.
7. You gave this day meaning.
8. Best Valentine's Day gift ever is waking up to this person. Oh wait, I get to do that every day!
9. I love you every day, but today you get to crash my selfie.
10. I can't believe I ever celebrated V-Day not married to you.
11. We put a ring on it, and that has a ring to it. Happy Valentine's Day!
12. Being married means you have to share your Fun Dip, right?
13. Can't wait to celebrate Valentine's the right way — ordering take-out and snuggling up to watch a true-crime documentary with you.
14. Thanks for vowing to be my Valentine forever.
15. I know we said, 'No gifts' this year, but I'll let you choose the movie tonight. You're welcome!
16. If we were in elementary school, I'd give you the biggest paper heart ever.
17. Roses are red. Violets are blue. I can't wait to spend the rest of my Valentine's Days with you!
18. My conversation heart says, "I do!"
19. Can't wait to eat my chocolate and your chocolate.
20. Being married on Valentine's Day? 10 out of 10, would do it again.
21. Here's to being together forever, on Feb. 14, and every other day.
22. Can't wait to buy all the on-sale candy with you tomorrow.
23. Being married to you makes everything better, including celebrating Valentine's Day.
24. You may have my heart, but you'll never have my chocolate.
25. Grateful to be yours forever. Happy Valentine's Day.