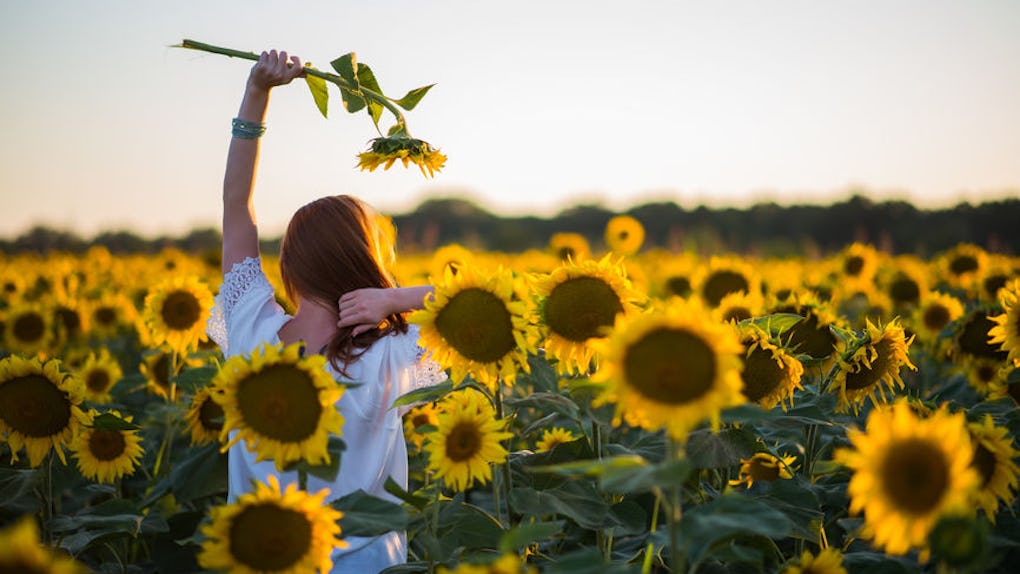 Mosuno/Stocksy
25 Instagram Captions For Flower Fields With Your Best Buds
Raise your hand if you feel like August is speeding by and seriously needs to slow down. (Hey summer, stop and smell the roses!) Speaking of roses, dancing in a flower field is one thing you may not have gotten to on your bucket list. There's just something about putting on your favorite floral sundress that makes you want to spin around in a lush field of flowers with your best buds. When you do, you'll need some Instagram captions for flower fields.
Along with a fire sunglasses selfie and pool float squad pic, a group shot with your besties in a field of colorful blooms is on everyone's Insta bucket list. Sometimes, the perfect field comes out of nowhere. There have been times when I'm driving, and I need to pull over pronto to get a pic of the beautiful sight I see. So, if you're on your epic summer road trip and you see a picture-perfect field, you'll want to snap and get back on the road in no time. That's why these 25 flower field captions are necessary to bring along.
1. "Like wildflowers; you must allow yourself to grow in all the places people thought you never would." — E.V
2. "Wherever life plants you, bloom with grace." — Unknown
3. "Wildflower about you."
4. "In an endless garden of flowers I will always pick you." — A.J. Lawless
5. "Happiness blooms from within."
6. "You're my best bud."
7. "Dancing on my own." — Robyn, "Dancing On My Own"
8. "If I had a single flower for every time I thought of you, I could walk in my garden forever." — Claudia Adrienne Grandi
9. "Let your dreams blossom."
10. "A flower does not think of competing with the flower next to it. It just blooms." — Zen Shin
11. "Some see a weed, others see a wish."
12. "Not a daisy goes by that I don't think of you."
13. "If you look the right way, you can see that the whole world is a garden." — Frances Hodgson Burnett
14. "You belong among the wildflowers." — Tom Petty, "Wildflowers"
15. "Give it time. I'll grow on you."
16. "I'd rather wear flowers in my hair than diamonds around my neck."
17. "Say you'll remember me, standing in a nice dress, staring at the sunset babe." — Taylor Swift, "Wildest Dreams"
18. "I sit before flowers hoping they will train me in the art of opening up." — Shane Koyczan
19. "Blessed are they who see beautiful things in humble places where other people see nothing." — Camille Pissarro
20. "That floral feeling."
21. "Raise your words, not voice. It is rain that grows flowers, not thunder." — Rumi
22. "Can we speak in flowers? It will be easier for me to understand." — Nayyirah Waheed
23. "The earth laughs in flowers." — Ralph Waldo Emerson
24. "I must have flowers, always, and always." — Claude Monet
25. "There are always flowers for those who want to see them." — Henri Matisse
This post was originally published on Aug. 13, 2018. It was updated on Aug. 26, 2019.