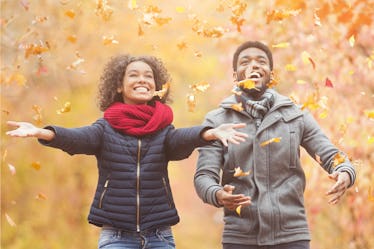 25 Unbeleafably Cute Captions For Pics Of Bae In The Fall Foliage
Shutterstock
Every fall, the days get shorter, the clothes get comfier, and the trees become beautiful backdrops for your Instagram. Whether you and your boo are lucky enough to live near the woods or you took a romantic trip to see some trees in action, fall is the perfect time to add some (pumpkin) spice to your IG content. While a picture is worth 1000 words, a good caption can snag you 1000 likes. And if you need the final touch on your adorably autumn post, these captions for pics with bae in the fall foliage will make your social media feed look unbeleafably good.
From jumping into a pile of leaves to taking a series of sultry selfies under a canopy of foliage, fall-inspired Instagrams come in all shapes and sizes. You and your boo can wear all sorts of flannel and add pumpkin-spiced everything. And no matter how long you've been fallin' for your boo, sharing sweet pictures of your adventures on social media lets all your friends and family share in your joy.
If you're looking for the perfect way to frame your leaf-inspired Insta, here are 25 captions for your fantastic foliage pics.
I'm not great at poetree but, you make me be-leaf in love.
We matched on Timber.
Lookin' like a tree-t.
I'm really fallin' for you.
I hope you never leaf me.
Thank you for making hiking slightly more bearable.
We're really starting to branch out with our poses.
You're never too old to jump in a pile of leaves.
Couldn't decide what to caption this pic, so we really mulled it over.
You're smiling now, but I'm stealing your flannel later.
Love to smash the pa-tree-archy with you.
'Orange you glad we're still together this fall?
You make every hour golden hour.
Fall looks good on you.
I like you better in flannel.
You're the apple of my eye.
Wouldn't be fall without a midday leaf photoshoot.
You're so cute, no wonder I give you special tree-tment.
My favorite color is you in fall.
How 'bout them apples.
I really picked a good one.
Can't wait to leaf press with you later.
And they all lived apple-y ever after.
Thank you for letting me take 70 pictures of you in this tree until the light hits in the right way.
I am smiling because we get to eat cider donuts after this.