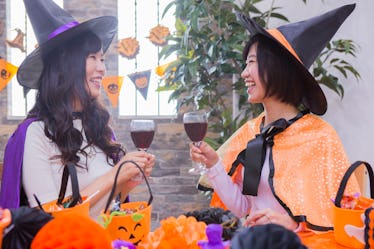 24 Halloween Party Icebreakers That Make Flirting In Costume Way Easier Than You'd Expect
Shutterstock
You're standing by the punchbowl, looking flawless. As you scan the room, you stop. There, through the fog machine and floating plastic ghouls, you spot them: the hottest person you have ever seen. Even though you don't really understand their costume (aw, they're artsy!), you can tell they're the one for you. As you approach them, you think about your opening line. "Hi," won't cut it, and, "What are you?" can seem a little boring.
You need some Halloween party icebreakers, and you need them fast.
A Halloween costume party is the perfect time to strike up a conversation with a stranger (or a friend of a friend who you've always had a little crush on, but never really got to talk to in-person). Sure, you spent more money on your costume than you should have. Yes, you took about seven hours to get ready, and your Lyft was triple the price it normally is because it's Halloweekend. But all that's behind you now, baby, because you're at the party, you're looking good, and you're going to make your move.
Here are 24 opening lines for a costume party that make flirting on Halloween as easy as (pumpkin) pie.