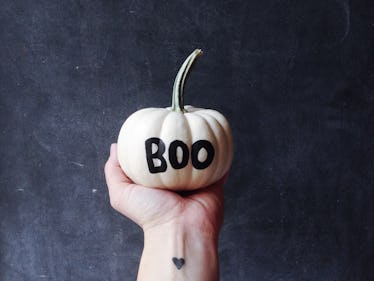 This Is Why A Halloween Party Is Actually An Amazing First Date Spot
There are a lot of really scary things to do to celebrate Halloween — venture through haunted houses, go on creepy hay rides, and check your savings account balance... but what about going on a first date? The phrase "first date" might be enough to send a chill down your spine, but let me tell you why a Halloween party is the best first date. First of all, there's safety in numbers so you and your date will be surrounded by other revelers, ready to help you out should first date chatter fizzle out. Secondly, you'll learn instantly if your date is game for an adventure or at the very least, an unconventional first date.
There's something infectious and fun about Halloween. For kids, Halloween is magical, you get to wear a fun costume, and strangers give you candy and it's not creepy. For adults, Halloween is magical for other reasons. You still get to wear a fun costume, candy is served along with yummy cocktails, and there are parties galore. The escapist thrill of Halloween is fun and freeing, setting the tone perfectly for a first date! So this Halloween, here's why you should considering asking someone out.