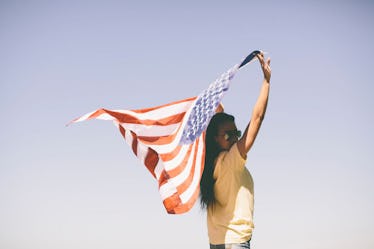 21 Memorial Day Quotes To Celebrate & Honor The Red, White, & Blue
Memorial Day is this coming Monday, which means barbecues and road trips with our besties are right around the corner. You'll see lots of patriotic shirts on social media, and maybe check out the parade in your town. It's always sweet to have a reason to celebrate, but it's also so important to remember exactly why we're waving our flags. These Memorial Day quotes will set the perfect tone for your celebrations, and remind you to pause and reflect during your day off.
In between all of the burgers and beach days, take time to come together with your friends and family and honor what this day is all about. Sure, it's nice to have some time away from work to relax, but this holiday is meant to commemorate all of those men and women who have served our country. We can't thank them enough; they were incredibly brave in the pursuit of life, liberty, and happiness for all.
We may not have know them personally, but proudly putting our flags up this weekend is a great way to show our appreciation, and pay tribute to those who have died fighting for our country. These 21 quotes will help you celebrate the stars and stripes this Memorial Day.
1. "Home of the free, because of the brave." — Unknown
2. "May we think of freedom, not as the right to do as we please, but as the opportunity to do what is right." — Peter Marshall
3. "As we express our gratitude, we must never forget that the highest appreciation is not to utter words, but to live by them." — John F. Kennedy
4. "There is nothing wrong with America that cannot be cured with what is right in America." — William J. Clinton
5. "Heroism doesn't always happen in a burst of glory. Sometimes small triumphs and large hearts change the course of history." — Mary Roach
6. "To those in uniform serving today and to those who have served in the past, we honor you today and every day." — Unknown
7. "Their remembrance be as lasting as the land they honored." — Daniel Webster
8. "What counts is not necessarily the size of the dog in the fight — it's the size of the fight in the dog." ― Dwight D. Eisenhower
9. "We don't know them all, but we owe them all." — Unknown
10. "My fellow Americans, ask not what your country can do for you, ask what you can do for your country." — John F. Kennedy
11. "This country will not be a good place for any of us to live in unless we make it a good place for all of us to live in." — Theodore Roosevelt
12. "How important it is for us to recognize and celebrate our heroes and she-roes!" — Maya Angelou
13. "We did not come to fear the future. We came here to shape it." — Barack Obama
14. "Our nation owes a debt to its fallen heroes that we can never fully repay." — Barack Obama
15. "What we need are critical lovers of America — patriots who express their faith in their country by working to improve it." — Hubert H. Humphrey
16. "Where liberty dwells, there is my country." — Benjamin Franklin
17. "A hero is someone who has given his or her life to something bigger than oneself." — Joseph Campbell
18. "Memorial Day: celebrate, honor, remember." — Unknown
19. "One person can make a difference, and everyone should try." — John F. Kennedy
20. "Heroism is not only in the man, but in the occasion." — Calvin Coolidge
21. "Honoring the heroes who served to hold our flag high." — Unknown
Hopefully, you found a few quotes that reminded you of the beauty and strength of the land of the free and the home of the brave. This Memorial Day, have adventures with your girl crew and explore every corner of this country. Just be sure to raise your flags, and send your love out to those who fought for the red, white, and blue.