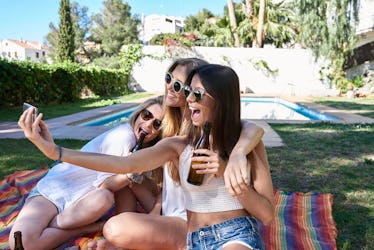 35 Instagram Captions For Memorial Day Barbecue Pics With The Crew
Memorial Day is right around the corner on Monday, May 28. The long weekend is a perfect excuse to break out your grill for the first BBQ party to kick off summer with your crew. I don't know about you, but I've been counting down the days until it's officially pool party and barbecue season. Finally, there's a light at the end of the tunnel, and you and your friends can get together for some fun in the sun. While you're getting your party plans in order, don't forget the festive decor, burgers and hot dogs, and most especially, the Instagram captions for Memorial Day barbecue pics. Pics or the party didn't happen, am I right?
Captions basically serve as the ketchup and mustard topping to a good 'Gram pic; you need them to add that extra bit of flavor to your post. No one wants a sunglasses selfie or burger pic that's worthy of any foodie to be posted without a fun, witty caption to tie it all together.
When you're at a loss for words, I've got you covered with these 35 quotes to pair with your pics. Keep your hands on your burger, instead of your phone, because summer is here and it's time to celebrate this long weekend with your friends and family.
1. "Young, wild, and free." — Unknown
2. "Happiness is a BBQ with friends." — Unknown
3. "Girls just wanna have sun" — Unknown
4. "Red, wine, and booze." — Unknown
5. "Party in the U.S.A." — Miley Cyrus, "Party in the U.S.A."
6. "Sunshine on my mind." — Unknown
7. "I wish some nights lasted forever." — Unknown
8. "Grillin' and chillin'." — Unknown
9. "Life is made of small moments like this." — Unknown
10. "Hello, summer." — Unknown
11. "The best beers are the ones we drink with friends." — Unknown
12. "If it involves fireworks, summer nights, barbecues, diet coke, and freedom, count me in." — Unknown
13. "Sunshine on my mind." — Unknown
14. "Sip, sip, hooray." — Unknown
15. "Good times and tan lines." — Unknown
16. "Cheeseburger in paradise." — Jimmy Buffet, "Cheeseburger in Paradise"
17. "My patriotic heart beats red, white, and blue." — Unknown
18. "Let the good times roll." — The Cars, "Good Times Roll"
19. "Life is a party, dress like it." — Audrey Hepburn
20. "Be excellent to each other and party on, dudes." — Bill & Ted's Excellent Adventure
21. "Sometimes, you will never know the value of a moment, until it becomes a memory." — Dr. Seuss
22. "So baby, be the life of the party." — Shawn Mendes, "Life Of The Party"
23. "I was made for sunny days." — The Weepies, "I Was Made For Sunny Days"
24. "You're one in a melon." — Unknown
25. "I like big buns, and I cannot lie." — Unknown
26. "'Cause baby, you're a firework." — Katy Perry, "Firework"
27. "You hamburgled my heart." — Unknown
28. "We didn't know we were making memories, we just knew we were having fun." — Winnie The Pooh
29. "Those lazy, hazy, crazy days of summer." — Nat King Cole
30. "The tans will fade, but the memories will last forever." — Unknown
31. "Ain't life grand." — The Great Gatsby
32. "Dope days, chill nights, good company, and mellow vibes." — Unknown
33. "Tonight, we are young, so let's set the world on fire, we can burn brighter than the sun." — Fun., "We Are Young"
34. "That summer feeling." — Jonathan Richman, "That Summer Feeling"
35. "Glad to ketchup with some friends." — Unknown