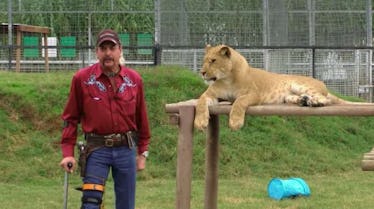 20 'Tiger King' Behind-The-Scenes Facts To Fuel Your Internet Spiral
Netflix
Since Tiger King took over the internet, fans haven't been able to get enough of the twist-filled story. Whether you're Team Joe Exotic, Team Carole Baskin, or just Team Tigers, there has been so much to unpack from the docuseries. It turns out, however, there is even more to the story than just what was shown by producers. After digging through the internet, it appears there are tons of additional Tiger King behind-the-scenes facts that add to the already wild tale.
While it might be hard to believe there was even more that happened, the show's director said they had so much footage, they simply couldn't showcase it all. Between how relationships have evolved since filming, mysterious happenings of folks who crossed each other, and one MAJOR glow up, the cast of characters from the true crime series prove they're just as fascinating off-camera than they were on the show.
As you finish watching (or re-watching) the seven-part series, tune into the podcast, jam out to some of Exotic's more hilarious music videos, read all the interviews about what the stars have to say about their portrayals, or just refresh your feed for news about the upcoming scripted series keep these interesting tidbits in mind.