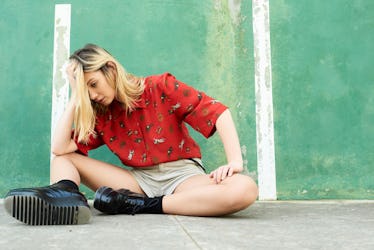 6 Women In Their 20s Reveal The One Biggest Regret About Their College Years
The goal for many of us is to live life with zero regrets. You want to toss your cap when graduation rolls around, and know you made the most of these four years at school. Naturally, you'll make a thousand promises to yourself and attempt to do it all. You'll swear that you'll try out for the dance team, always study for your exams, and never let your fears get in the way. But, semesters go by and unexpected things happen to the best of us. You might steer off the original planned course, and may be disappointed with some of the outcomes. These 20-somethings reveal their biggest regret about college, so listen up, and then go out and live the life of your dreams.
Realizing you have some regrets can be the worst. You may dwell on the past, and wonder what would've happened if some things turned out differently. In these moments, it's crucial to take a deep breath, and then embrace change. Figure out what it is that you're missing, and make it happen.
Your current situation is entirely up to you. You can create incredible experiences and memories right in front of your eyes. Saying, "I wish I would've known," is inevitable. Don't linger on what could've been, and listen to advice whenever you can. These real women are revealing some of their regrets about college. Let's just say, the school of life is in session.