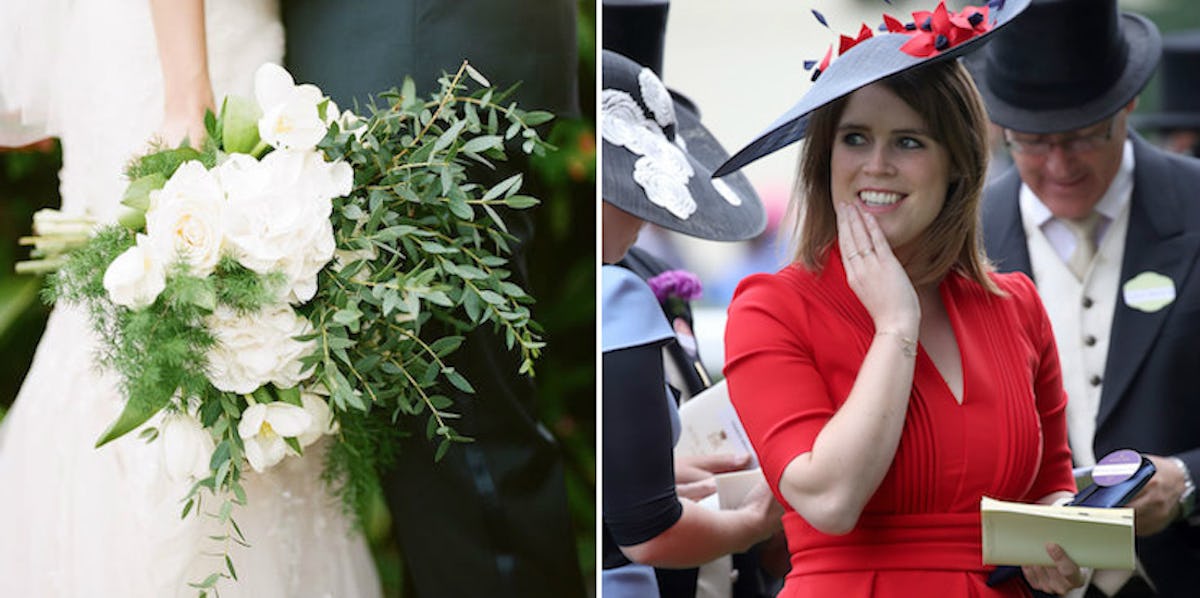 20 Captions To Make Your Instagram Royal On Princess Eugenie's Wedding Day
It's been a year for the royals of the world, but for the best and most romantic reason: weddings. Back in May, the entire planet tuned into their TV screens to watch Prince Harry and Meghan Markle get married. The event was a real-life fairy tale, and some of us spent a very early morning dreaming about our own version of happily ever after. Now, on Oct. 12, the palace will break out all the tea and crumpets one more time for Princess Eugenie and Jack Brooksbank. Naturally, you need some quotes for royal wedding pics so that your scone can make a proper appearance on social media, too.
Let's be honest: When there's a royal wedding going on, your feed is covered in fascinators and photos of everyone who's in attendance. You know what's happening in the ceremony thanks to your favorite entertainment outlets, and keep up with all the little details, like who will walk the bride down the aisle. Somewhere amongst all of the coverage, you're penning down some notes in a pad for when your big day comes around. (I mean, look at those bouquets and that designer dress! You want to recreate the centerpieces and find a vintage ring to wear to the reception, too.)
When it comes to Princess Eugenie, though, you may be a little out of the loop. Like, did you know that her mom made an appearance on Friends? Odds are, you've watched the series about a thousand times, but you didn't notice that in Joey's adventures as a tourist, he met the Duchess of York. Can I get a: "London, baby!"
Get ready to celebrate the big day with Princess Eugenie, simply by making some scones and toasting your cup of tea to love! Don't forget to post a picture on the 'Gram of your set-up, and use one of these 20 quotes for royal weddings, too. I'm sure the happy couple will want to see how their guests and the rest of the world are cheering on romance, one more time this year.
1. "If you find someone you love in your life, then hang on to that love." — Princess Diana
2. "I love her, and that's the beginning and end of everything." — F. Scott Fitzgerald
3. "Together is a beautiful place to be." — Unknown
4. "The best thing to hold onto in life is each other." — Audrey Hepburn
5. "Love bears all things, believes all things, hopes all things, endures all things. Love never ends." — I Corinthians 13:7
6. "A successful marriage requires falling in love many times, always with the same person." — Mignon McLaughlin
7. "Confetti here, champagne there, and love everywhere." — Unknown
8. "And they lived happily ever after." — Unknown
9. "That moment when 'yes' means forever." — Unknown
10. "'How do you spell love?' 'You don't spell it, you feel it." — Piglet & Pooh, Winnie the Pooh
11. "Love is friendship that has caught fire." — Ann Landers
12. "Once in a while, in the middle of an ordinary life, love gives us a fairytale." — Melissa Brown
13. "Love is a song that never ends." — Bambi
14. "Only do what your heart tells you." — Princess Diana
15. "Life itself is the most wonderful fairytale of all." — Hans Christian Anderson
16. "They say if you dream a thing more than once, it's sure to come true." —Sleeping Beauty
17. "Make sure you marry someone who laughs at the same things you do." — J.D. Salinger
18. "So be truly glad. There is wonderful joy ahead." — 1 Peter 1:6
19. "Once upon a time and happily ever afters are here." — Unknown
20. "We were together. I forgot the rest." — Walt Whitman
Celebrating love is always a good idea, so another royal wedding is fine by me. If nothing else, it's like all of your Princess Diaries dreams are becoming a reality in the world! (Now, has anyone seen Julie Andrews with my crown or invitation to a day of exploring around San Francisco?)
Many of us were as disappointed as ever the moment we found out Genovia wasn't real. I mean, we really wanted to try that pear ice cream, and hang in the throne room. But, don't worry: There are at least princesses in this world with weddings just as beautiful as the ones in the movies. So, start whipping up those scones, like right now. Social media will want you to be tuned in for it all.